JDS Cookbook: Pesach friendly recipes from our community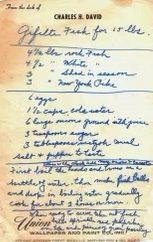 Each seder meal is different. From a Thanksgiving inspired Passover "stuffing" to a kosher-for-Passover chocolate mousse cake, the variety of dishes is endless, with each family adding their own flair to customize their Passover spread. If our own families have personal Passover recipes, shouldn't our JDS family have its own sort of cookbook as well? Made with love, these 4 recipes encapsulate the meaning of a family recipe and will undoubtedly bring some variety to your seder table.
Baked Passover "Stuffing"
High School Jewish Text Chair Grace McMillan has been celebrating Passover for almost 30 years since her conversion to Judaism. She makes up for a lack of family Passover recipes with recipes she has developed over the years, one of which is a Baked Passover "Stuffing." The dish, which she says reminds her of Thanksgiving, incorporates flavors from McMillan's childhood into a Passover friendly meal. McMillan's dish is popular amongst her and her friends, and she says"[her] mouth is watering now as [she] think[s] about making it this coming week." McMillan uses the dish as a side for her seder, and highly recommends it.
Ingredients
8 cups of Streitz's Matzo Farfel (or 6-8 matzah pieces crumbled to make pieces roughly ½") – note that this can be whole wheat or regular
4-6 eggs (enough to lightly coat the majority of the farfel)
1-1 1/2 packets of Onion Soup Mix (Goodman's or Lipton)
16 oz mushrooms, sliced
2 tablespoons of  olive oil
Directions
Preheat oven to 350 degrees.
Wash and slice mushrooms. 
Sauté mushrooms in olive oil until they release their juices and are well sautéed but not crispy.  (If you want to use real onions instead of soup mix, sauté one onion chopped and diced with the mushrooms.)
In a large mixing bowl or in the pan in which you plan to bake the stuffing, combine farfel and eggs, mixing eggs in so that they lightly coat the farfel.
Add in the onion soup mix and the mushrooms, with all of the oil and juices from sautéing. Mix together well so that the onion soup mix and mushrooms are evenly distributed.
Bake for ½ hour or until the stuffing is browned and crispy on top.
Gefilte Fish
On a singular sheet of yellowed paper lies a four-decade old gefilte fish recipe. The blue-penned cursive scrawl of freshman Ami Epstein's and sophomore Dalia Epstein's great-great grandmother, Claire Sturz David, details the process. Four different types of fish are used in this recipe, and even the inedible parts are still put to use, such as the bones and head. These parts are boiled in a vegetable stock of onions and carrots to yield deeper flavor and it results in a delicious dish. This recipe is special tradition for the Epstein family and even after decades, it remains a delicious dish. 
Ingredients
4 ½  lb rockfish
4 ½  lb whitefish
3 ½  shad 
3 ½  New York pike
6 eggs
1 ½  cups of cold water
6 large onions ground with onion juice
Carrots
3 teaspoons of sugar 
3 tablespoons matzah meal
Salt and pepper to taste (mix everything together and mix into fist size balls)
Directions
Mix everything (except the water, onions and carrots) together and mold into fist size balls.
Create a vegetable stock with onions, carrots and water. Bring it to a boil and boil the heads and bone. Drop fish balls in the boiling stock gradually. Cool for about 2 hrs or more.
Then ready to serve, take out the fish balls and sprinkle red paprika on top and some green parsley.
Cranberry Meatballs
These meatballs feature an unusual combination of cranberry sauce, ketchup and mustard as a sauce for ground turkey meatballs. Freshman Julia Yoskowitz recalls making around 500 of these meatballs for previous seders. Yoskowitz and her family use the ketchup and mustard to bring out the cranberry sauce and help the meatballs cook better. The meatballs vary each time, though, as Yoskowitz and her family often measure with their heart. 
Ingredients
2 pounds ground turkey 
1 egg
½ teaspoon garlic powder
Salt and pepper to taste
⅓ cup matzah meal
2 (14-ounce) cans jellied cranberry sauce
½ teaspoon cinnamon
2 (8-ounce) cans tomato sauce
Ketchup and mustard, measured with your heart
Directions
Preheat oven to 350 F.
Cover cookie sheet with aluminum foil and grease lightly. In a large mixing bowl, combine meat, egg, garlic powder, salt, pepper, ketchup, mustard and matzo meal. Form into balls.
Place on prepared cookie sheet. Bake for 25 to 30 minutes.
In bowl, mix cranberry sauce, cinnamon and tomato sauce together until smooth.
Pour mixture in a casserole dish. Add meatballs. Cover and bake for 1 hour.
Note: If making for appetizers, make small size balls. Meatballs freeze well.
Chocolate Mousse Cake
High school history and psychology teacher Matt Cohen uses his Passover recipes to connect with his late grandmother, who would host the seder every year. The recipes remind him of his family and the memories they have shared over Passover seder which hold a "special place" for him, Cohen said. When making this recipe on Passover, Cohen said he feels "closer to [his grandmother] and [his] roots."
Ingredients
8 ounces semi sweet chocolate                   
8 eggs, separated by yolks and whites
1 tablespoon coffee brewed OR 1 tablespoon instant coffee and ¼ cup hot water
⅔  cup sugar 
2  and ½  teaspoons vanilla
1/8 teaspoon salt                                                            
Cookie crumbs
2 cups whipping cream
Directions
Put chocolate and coffee in a microwave-safe bowl and melt. Whisk until smooth.
In a large bowl, beat egg yolks until thick. Gradually beat in sugar. Pour cooled chocolate into egg mixture, beating well. Slowly add vanilla.
In a medium bowl, beat egg whites until frothy. Add salt and continue beating until soft peaks. Stir ¼  of egg whites into yolk mixture. Gently fold remaining egg whites into yolk mixture.   
Spray 9 inch pie plate, then dust with cookie crumbs, removing excess crumbs. Fill with part of mousse, just to level edge of pie plate.
Bake at 325 F for 25 minutes. Turn off oven and leave in for 5 more minutes. Remove and cool (it will sink in middle, creating a shell)   
Beat 2 cups whipping cream. Add ½  teaspoon vanilla. Fold cream into remaining batter. Spoon into shell and refrigerate (If any left over mousse, put into bowl)
To Serve 
Shave chocolate over top. Freezes well.