School Sick: Statewide shutdown shifts academics online
On March 11, the World Health Organization (WHO) declared COVID-19 a global pandemic, temporarily halting conventional life across the globe.
Following WHO's declaration, Governor Larry Hogan issued a state-wide shutdown on March 12 that closed non-essential businesses, public buildings and public schools, leaving individuals confined to their homes. With campuses closed, most school districts implemented remote learning systems to complete the academic year.
Normalcy in Academics
Head of School Rabbi Mitch Malkus announced the closure of school on Thursday, March 12 to be in effect on Wednesday, March 18. CESJDS quickly transitioned to an "enhanced distance learning program," Malkus wrote in a school-wide email.
On March 18, JDS launched its remote learning program, which gave high school students and faculty flexibility with asynchronous classes and work for specific subjects being posted on certain days. On Mondays, Tuesdays and Fridays, English, history, Jewish history, Jewish text and science teachers would assign work, whereas, on Mondays, Wednesdays and Thursdays, math and world language teachers posted work.
After two weeks of distanced learning and a series of feedback forums for students, parents and faculty, the administration adjusted the high school schedule. The administration recognized that students and faculty have familial responsibilities and are experiencing additional stress due to the disruption of normalcy.
The new schedule mandated synchronous classes at least once a week and limited teachers to only assign three hours of work per week in a respective course, according to Dean of Academics Aileen Goldstein.
The administration also instituted a three-day grace period for high school students, allowing them to complete work up to three days late without penalty.
"It's been a little rocky in some places in terms of adjusting, which is why we have engaged with the families, with the students, with the student council, with the faculty meetings, really trying to figure out what is the balance, and we have done a lot of training around distance learning," Goldstein said.
While there several adjustments within scheduling for classes, sophomore Zoe Wertlieb appreciated her reduced workload.
"I think that the workload is good, normally for me, it takes less time than they think it will, so I am okay. I don't feel very overwhelmed," Wertieb said.
While middle school students have participated in distance learning, their schedule initially differed from that of high school students. During the first two weeks of remote learning, middle school students focused on two interdisciplinary projects and had math and world language classes.
After completing two "passion projects," middle school students engaged in pre-Passover learning and subsequently joined the high school in having a more structured schedule with synchronized learning and a smaller workload.
Given that students have less work, the entire school's curriculum has slowed down. Namely, teachers are seeking to hone students' skills and focus on the building blocks of the curriculum to help students continue their learning successfully.
"When you're not in front of students and you don't have the ability to see how they are responding, it is more difficult to introduce new concepts," history department chair and teacher Mark Buckley said.
Additionally, Buckley had to restructure deadlines on his junior students' U.S. History advanced term paper to provide ample time for them to complete their essays.
Similarly, English department chair Dr. Thomas Worden had to reevaluate the English curriculum given the lack of instructional time. The English department decided to skip "The Glass Menagerie" in the junior ECP class, "V for Vendetta" in sophomore advanced classes and "Romeo and Juliet" in eighth-grade classes.
"We want to do what we do well. Myself, I always feel like it's do it well or don't do it all, so it's all or nothing, and we're really erring on the side of not doing things," Worden said.
The history and English departments are not alone in changing the structure of their classes. Learning specialist Brett Kugler has adapted his structured study hall classes to distance learning. He uses FaceTime to meet with each of his students once a week to discuss how they are doing and helps them create a structured routine for school and stay organized if needed.
The science department is no longer able to conduct in-person labs. Junior Jane Trainor is currently taking Genetics II advanced which, for the second semester, is primarily a lab-based class. The class has shifted to doing more independent research.
"I think it is unfortunate that we are not able to do labs, but there is nothing we can do about it," Trainor said.
Art teacher Benjamin Tellie has also changed the curriculum for his Art and Design and Graphic Design classes to accommodate for the lack of resources by focusing on wellness. Some of his new projects included creating art for family members and responding to a prompt while working with a constraint like using one's non-dominant hand to symbolize how the students are dealing with the current circumstances.
"The biggest resource [we do not have right now] is [having] Tellie [around] because it's a lot easier for me to do my art to the best of my ability when I have someone who knows what they are doing to critique me, so that's hard not having that second opinion," sophomore Rebecca Bender, who is currently enrolled in photography and art Zman Kodesh, said.
The shortening and restructuring of the conventional curriculum have left teachers thinking about how to continue, knowing that students will not complete the traditional curriculum.
"We can't get as much done as we want to and we don't need to, I don't think," Worden said. "We're just going to have to start next year knowing that we didn't do some of these things and proceed from there."
Grading Process
Due to the adjustments in learning, the administration altered the grading process for all Upper School students.
The administration instituted a "Pass/D/Fail" system for middle school students, which is a standardized grading system that gives students a grade in classes upon reaching a certain percent for the fourth quarter, and accounts for 15 percent of students' final grades.
Although the administration wants to implement a pass/fail system for high school, it is unrealistic given that high school grades carry more "weight" in college admissions and high school students take more semester classes, according to Goldstein.
"Could I give you a grade for English first semester during first semester, but give you a pass/fail grade second? Probably, but does that you put in a bad situation moving forward? We don't want to do that," Goldstein said. "We are looking at what are best practices and the indications right now, what do the different studies say?"
Utilizing Resources
Although students and teachers lost access to physical resources in the building, technology proved critical in finishing the school year at home, according to Director of Instructional Technology Ginger Thornton. Technology not only allowed teachers to connect with their classes, but it also gave them access to all necessary resources for the curriculum.
"Luckily, books aren't the only resource tool we have," Media Center Specialist Cheryl Fox Strausberg said. "We still have access to all of our online databases so we can still go do research in other places."
In addition to the online databases the school previously had access to, Strausberg worked with teachers to ensure that all necessary research books were available for students online.
Strausberg and Assistant Media Center Specialist Mirele Kessous offered office hours twice daily to help all students in need of assistance finding or accessing online resources. According to Strausberg, however, said most students came just to chat or talk about books.
"There are lots of places to get information. It's more of a matter that if students need help, it is not as easy to access the library as walking in the door," Strausberg said. "It's a little bit more challenging for students to find us if they need help."
In regards to English books, Worden said, teachers distributed most books before classes moved online. In the case that classes did not have a paper copy of the book, they used a free copy online.
The novel "Red Scarf Girl," originally in the sixth-grade curriculum, was not available online, so the sixth grade changed the focus of their curriculum to a symposium project. According to Worden, the shortage is not in physical resources, but in "the resource of time."
Respecting Academic Integrity
As previously reported in The Lion's Tale ("Academic Epidemic," Aug. 27, 2019), students' desire to improve their grades, as well as the technology that allows them to collaborate on assignments, has threatened their academic integrity. These concerns regarding academic integrity enforcement have only heightened amid distanced learning with constant technology usage.
"[Academic dishonesty] deprives [students] of the academic learning they would have otherwise experienced and it keeps them from gaining skills in addressing challenges with honesty," according to Associate Head of School and High School Principal Dr. Marc Lindner.
According to a recent Lion's Tale survey of 65 high school students, during distance learning, 22 students cheated on an assignment, 27 collaborated wrongfully, 35 students saw a peer breach the academic integrity policy and no participants have reported students they have witnessed acting academically dishonestly to a teacher or administrator. These statistics show that approximately 48 percent of survey participants cheated during distanced learning in some aforementioned degree.
Junior Jack Weitzner does not understand why students feel so inclined to cheat, even with it being easier.
"There is no one sitting over your shoulder, making sure that you spend only one hour on your DBQ exactly, there's not a person looking over your shoulder, making sure you are not copy and pasting off some other document … it's still far less work … but you just have to do it," Weitzner said.
In contrast, although history teacher and chair of the Academic Honesty Committee Carl Atwood believes it is easier to cheat, he understands students' inclination to do so.
"I think for students, I kind of empathize. You're not with your teacher; it's harder to ask questions," Atwood said. "It's not impossible, you can always email your teachers if you have questions, you can always ask for clarifications, but the opportunities are fewer for that."
JDS' Academic Honesty Committee, composed of teachers, guidance counselors and administrators, has taken measures to circumvent students' desire and ability to cheat on assignments. When distanced learning began, Atwood drafted language for teachers to place in assignments' directions, which details whether students are allowed to collaborate. Similarly, the JDS administration suspended all closed-note tests and quizzes upon returning from spring break and canceled high school final exams. While the academic integrity policy is in effect during distanced learning, the administration's procedure towards managing students' alleged breaches of the policy is different due to added anxiety regarding COVID-19.
Before the school closure, Goldstein primarily oversaw students' alleged acts of academic dishonesty. Currently, Dean of Students Roslyn Landy and Lindner have also been involved in the process to "look at the full picture … and understand what is going on," according to Goldstein.
"We want students to adhere to honesty and to do their work with integrity, but also note that in each of these cases, is there something else going on that is actually a flag for us," Goldstein said.
"At JDS, there is this culture that everything we send to our teachers has to be 'perfect' or it has to be the quality that would receive an 'A.' It is so much harder, I think, for students to feel confident in their work when they're alone at home by themselves with fewer opportunities for teacher feedback," Atwood said.
Academic Clubs
Academics have not been the only part of student life forced to adapt to the school closure. Without being able to meet in-person, student clubs, too, had to change the way they operate.
The Melting Pot, JDS' Spanish and Arabic literary magazine, faced many obstacles in producing their magazine due to technology barriers and a smaller staff willing to work from home. According to Weitzner, who is the magazine's producer and production manager, the Melting Pot staff had to focus their attention on getting all the content compiled.
"It was going to be so amazing, better than any years before, and now, here we are, just a couple months later, and half the people who were working on it have gone and we're shortening it, just trying to make something," Weitzner said.
Due to their smaller staff, Melting Pot had to push their original deadline to early June, when they plan to release the magazine to students and families through Issuu, a digital publishing platform. While all original submissions will be included, because of the limited resources, the staff had to get creative using pictures from their own backyards and Passover seder tables.
The yearbook staff has also been forced to think outside of the box as they brainstorm new ways to fill the pages of next year's yearbook without significant spreads such as Color War, Zimriyah and spring sports. To keep the yearbook the same length, the Dimensions Yearbook staff plans to add specialty spreads and content about life in quarantine.
"We really have to think creatively about what new spreads to create and how to make more creative content to fill the space of interesting content that we lost," co-editor-in-chief of the Dimensions Yearbook and junior Arava Rose said. "It's a lot of brainstorming, but we're getting there."
Sophomore and co-editor-in-chief of the Bohr Franklin Science Journal Elliot Sher feels that unlike other publications that spent time adjusting to the school closure, the science journal has gotten ahead of schedule and will be able to publish earlier in the winter than expected. The staff continued writing and peer-reviewing articles and was able to teach everyone how to use the design software online.
Not only have publications been greatly affected by COVID-19. Both Model United Nations and Junior State of America (JSA) had their conventions, originally scheduled for mid-April, canceled, making it hard for members to stay engaged.
"That spring convention usually serves to tie up the end of the year," sophomore and a member of JSA's regional board Naomi Gould said. "… So JSA is kind of lacking this closure that we usually get at the end of the year and of course, the opportunity to see everybody again."
On a regional level, JSA offered online programming, such as debates and webinars, but, the club did not meet virtually on a chapter level. Junior and JSA chapter president Sami Himmelfarb thought chapter meetings would be difficult to organize and that participation would be low.
"It's a little bit upsetting because I was excited to be chapter president and to take on that leadership role and to get to work with younger students and see them become passionate about being civically engaged the way I had the opportunity to," Himmelfarb said. "It makes me sad that they're not really going to get that opportunity, or at least not for a little while."
Scheduled Events
Given that all gatherings of more than ten people are discouraged to practice social distancing and due to Montgomery County's "stay at home" order, annual JDS culminating academic events including field trips, Arts Chai lights and award ceremonies have been canceled or postponed.
Due to the initial state-wide shutdown, the sophomores' theater trip to see "Much Ado About Nothing" and the school-wide visual arts field trip were both canceled. In lieu of these trips, Director of Arts Education Dr. David Solomon sent out a list of free or low-cost theater opportunities for students to watch while quarantining.
"There is an overwhelming amount of stuff that is out there. We have all had that experience throughout the past few weeks, 'Oh my goodness, I am so bored.' If you are bored, it is all there, there is stuff to do," Solomon said.
Solomon worked to move Arts Chai Lights, JDS' annual art showcase online on June 3, rather than canceling the event entirely. The arts department showcased students' artwork online through interactive experiences by creating galleries of students' artwork and having performances.
Shir Madness, JDS' a cappella choir, had already been singing together by making and compiling videos of members singing while social distancing. According to freshman and Shir Madness member Aidan Kempner, performing and having a video at virtual Arts Chai Lights was no different.
"I have been really delighted with the creativity that has come from the arts faculty in designing online courses and experiences for students. Limitations do breed creativity, and that is certainly the case here," Solomon said.
The annual world language award ceremony that recognizes students enrolled in Spanish and Arabic classes' achievements in the classroom and in the National Spanish Exam (NSE) was also canceled. The ceremony, which is typically held in the middle of May, involves the induction of students into the National Spanish and Arab Honors Societies, the awarding of medals for students who performed well on the NSE and the congratulating of the students of the year in Spanish III, IV and V.
Although students and families cannot gather to celebrate students' academic achievements in person, World Languages Department Chair and Spanish teacher Dr. Silvia Kurlat Ares is seeking a way to congratulate students in the fall.
"We want to recognize everybody and applaud everyone for their achievements, but we don't want to put anybody in a situation that is unsafe or awkward," Kurlat Ares said.
Future Academic Endeavors
Current juniors are facing uncertainty over what the college process will look like next year.
SAT and ACT tutors have shifted to tutoring virtually. Top Score Education, a standardized testing institution, has shifted to doing at-home practice tests, but they are continuing to do them on paper instead of virtually. While Top Score Education has used virtual tutoring before, they are finding trouble keeping students engaged.
"The communication needs to just be a lot better, and that's something I have certainly voiced to my tutors is that there has to be even more engagement," President of Top Score Education Alexander Chip said. "Certainly in any tutoring program you should have a lot of engagement. But when you're doing it digitally there has to be much more of a conversation and less of a lecture situation."
As a result of the lack of testing opportunities, some universities have gone test-optional for the following school year, meaning that they will not require standardized test scores from students to apply.
SAT Subject Tests have also been canceled until at least August. Sophomore Emma Landy was planning on taking the Molecular Biology Subject Test this May before starting to study for the SAT.
"I'm not super thrilled about having to extend the studying period and pushing it forward because as junior year is approaching, studying for the SAT or the ACT is going to become more important," Emma said. "…Now that that is not possible, I understand that if that's necessary then that's what I'll do."
Advanced Placement tests shifted from three-hour in-person exams to 45-minute online exams. Colleges, so far, will be accepting these exams for college credit as they normally would.
JDS college counselors had their college meetings over Zoom and supported current juniors and seniors through the college process during the school closure.
The college process will look different this year as there will be a lack of extracurriculars during this time on students' application, and an essay question about how students spent their time could come up next year, according to Director of College Counseling Sue Rexford.
"I know that they are already having to adjust to online learning," Rexford said. "They are having to make a lot of adjustments to how they live, but the college process is going to happen."
This story was featured in The Lion's Tale's June 2020 magazine.
Leave a Comment
About the Writers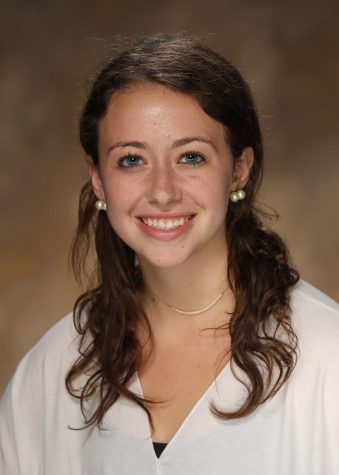 Daphne Kaplan, Senior In-Depth and Design Editor
Daphne Kaplan is ecstatic to continue working for The Lion's Tale as In-Depth and Design Editors, after being Assistant Features Editor and a reporter. She is also president of her BBYO chapter, an entrepreneur and a member of the debate, JSA and mental health awareness clubs. Daphne loves working for The Lion's Tale so that she can cover prevalent issues facing our community and ensure that the CESJDS community is well-informed about student's accomplishments, reviews and reactions to political events.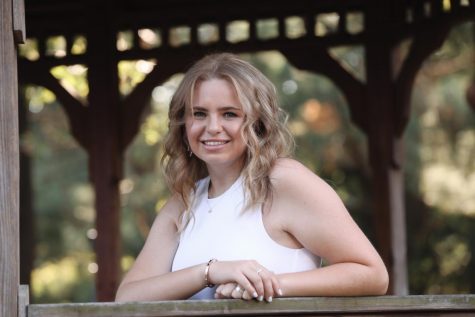 Mischa Trainor, Editor-in-Chief
Mischa Trainor is looking forward to an exciting and productive year as Editor-in-Chief after previously being In-depth and Design Editor and Assistant Sports Editor. Outside of Lion's Tale, Mischa runs the STEMinism Club and the Zine Club and is also a member of the Environmental Club, the Class of 2022 Grade Government and the Varsity Softball Team. Her favorite part about being on staff is creating well-designed magazines that inform our community.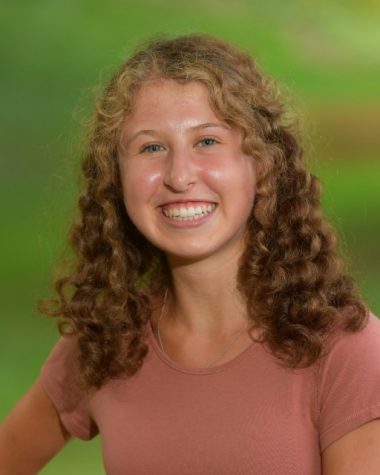 Eva Bard, Editor-in-Chief
After working as an Arts and Entertainment Editor this past year, Eva Bard is thrilled to continue her work on the Lion's Tale as Editor-in-Chief. Eva enjoys both designing and writing for the Lion's Tale, but if she had to choose one, she would have to choose writing. Aside from Lion's Tale, Eva serves as the president of the Green Team and is a member of the Student Council and Dance Team. She loves working with others, and cannot wait to collaborate with the outstanding group of reporters and editors on the Lion's Tale this upcoming year.