First-ever Renaissance night delivers variety of music and acting performances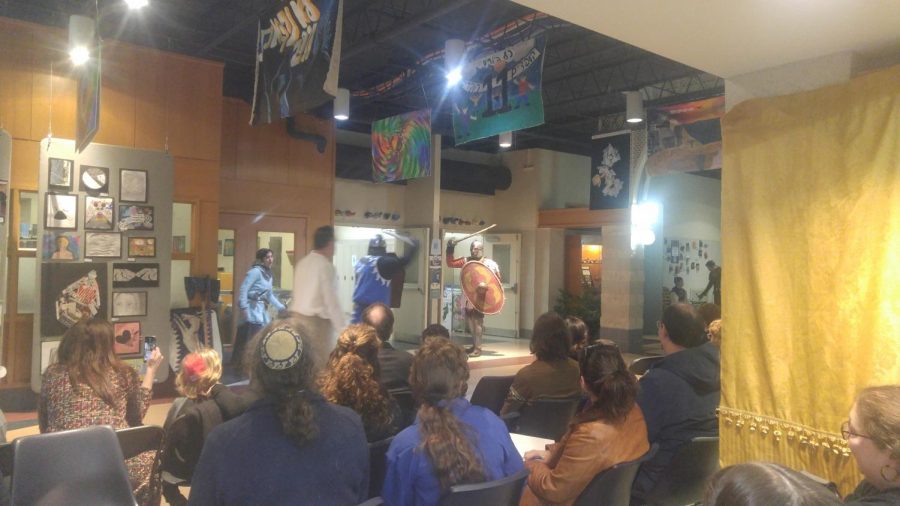 Works of art ranging from singing to sword fighting were showcased at the first-ever CESJDS Renaissance night on Wednesday. The event has been in the works for many months, and the practice paid off.
"Mr. Dunn, Mr. Feigenson, and Dr. Solomon have been plotting this for months; possibly years in the case of Dr. Solomon, so to see it all come together was fantastic, and that all the work finally led to this," science teacher Nick Miller, who helped lead a medieval dance, said.
The event was split into two parts: singing and theatrical performances from JDS performers and combat performances from the Society for Creative Anachronism. JDS students performed acts from Shakespeare and sang medieval songs, while the Society for Creative Anachronism performed combat demonstrations and a medieval dance done with the audience.
The singing was different from other vocal performances at JDS, with different clothing and setting-related themes and designs. The performers, including the high school a cappella choir, Shir Madness, and the middle school and lower school Shakespeare clubs, were unhindered by the unusual environment.
"Usually, we're performing in our concert dress, so performing in costume was an interesting twist and added a different layer," freshman singer Will Sexter said.
Renaissance Night has a much deeper goal than having fun, as teachers who helped organize it wanted the audience to learn about the Renaissance period.
"The foundation of our art, music, architecture and law is continuous with the past, so the riches that our culture has handed down to us must be handed on to the next generation, and this event is part of it," Miller said.
Although the performers had to balance both practices and school work, they pulled the show off without any apparent mistakes.
"I was thrilled. I wasn't sure it was going to come together, because everybody is so busy and had a hard time committing, but there were a lot of people here, and they really enjoyed it," history teacher and Renaissance enthusiast Deborah Feigenson said.