Lions decisively defeat Waldorf, clinch their first victory this season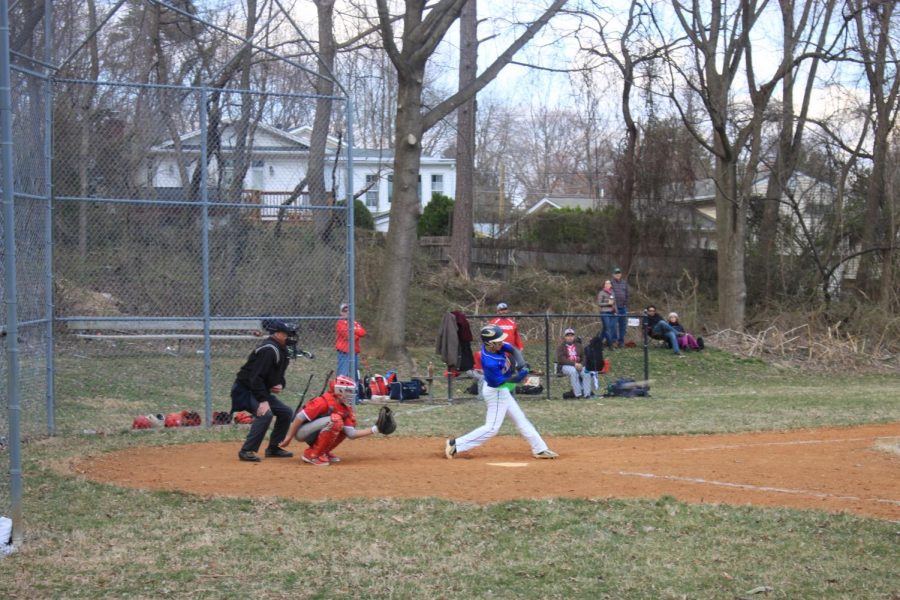 The boys varsity baseball team was full of excitement as freshman and pitcher Eli Gordon threw the last pitch of the fifth inning. The Washington Waldorf batter seemed to be expecting a fastball, and was tricked by Gordon's slider, which proved effective. The batter swung and missed before the ball reached home plate, ending the inning on Gordon's second strikeout in a row. The Lions on the bench cheered as the rest of the team ran off the field. The Lions ended up clinching their first win this season on Monday by a score of 12-5.
The Lions got off to a rough start in the first inning, giving up three runs. However, the team responded on offense with four runs of their own.  
Sophomore and pitcher Nate Heller started the game, and pitched the first two innings, but was taken out of the game because he reached his maximum pitch count of 50 pitches. After throwing his 50th pitch in the middle of the third inning, Gordon came in to pitch as a reliever, pitching the rest of the game and giving up only one run.  
Gordon was happy with winning the first game of the season, but was focused on improving the team's performance.
"I think that we are a good team, but we're a little sloppy on the basepaths because we got thrown out a couple of times," Gordon said. "Our fielding could also get better, so I just think there are some little things we need to work on if we want to win the championship this year."
In their first game of the regular season, the Lions scored a total of seven runs in the first two innings of the game. Junior Zach Gross had a couple of key hits, including an RBI double in the first inning. The Lions ended up scoring 12 runs over six innings at bat.  
Coach Steve Forestieri was very optimistic about the game and offered some encouraging words as the Lions began their season with a decisive victory.  
"Today's game was a great regular season opener for the team," Forestieri said. "It's a great feeling to start the season off with a team win and provides some immediate momentum in a positive direction to build on."