Lions face hard defeat: Waldorf Knights beat girls middle school basketball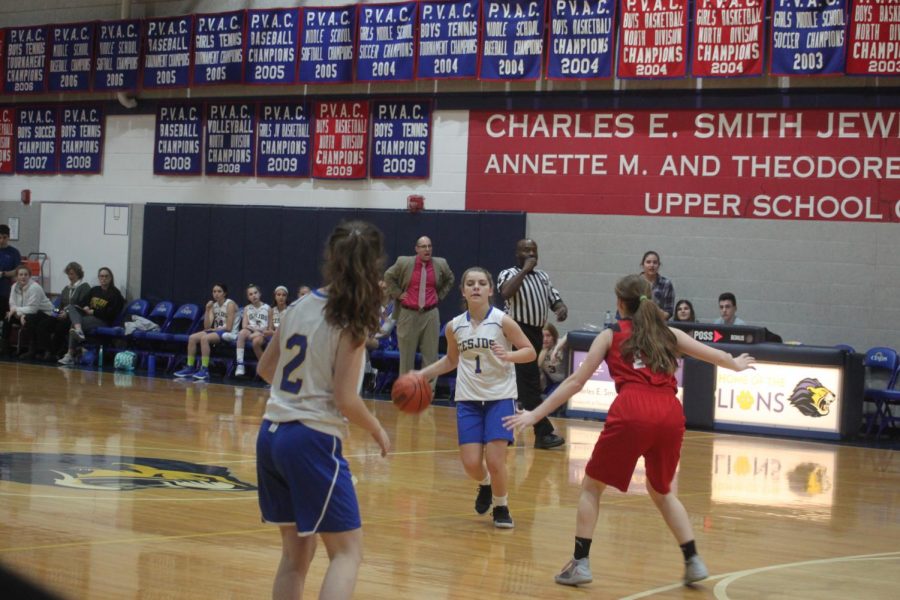 With 10 seconds left in the third quarter, the Washington Waldorf Knights dribbled the ball up court. Four seconds later, the Lions blocked the shot of a Knights player, and the ball was passed to eighth-grade captain Shani Schwartz. Schwartz took two dribbles to get to the three-point line.
With under a second left in the quarter, Schwartz shot the ball, as the fans roared in excitement. The ball hit the back of the rim, shot up in the air and made contact with the rim again before bouncing away, resulting in zero points for the Lions. Coach Brett Kugler and the crowd then sighed in frustration as the buzzer sounded.  
This play represented the game as a whole. The Lions missed a number of opportunities and took many smart shots that simply did not go in the hoop.  
The first score of the game was a three-pointer made by Lions player eighth grader Dalya Offer. The first quarter was fairly even, and the Knights were winning 8-5 when the quarter ended.  
The Lions were outscored in the second quarter by 10 points, and at halftime, they were down 20-7. In the third quarter, the Lions drew a couple of fouls, resulting in free throws.  Both of the points that the Lions scored in the third quarter were off free throws, while the Knights added 10 more points to make the game an astounding 30-9.
In the fourth quarter, Schwartz earned the team nine points, with four solid shots.  Despite Schwartz's efforts, they were not enough to make a significant impact on the game, and the Lions lost 38-18 in the end.
The Lions had an extremely successful season last year, winning the championship. With their loss tonight, the Lions record this year became 1-1.
Schwartz said that in the future, the team should focus on "working as a team and playing defense."
Kugler also weighed in on the team's disappointing loss and laid out a strategy for the team's success in the future, specifically addressing how rebounding is a problem for the Lions.   
"We need to be more scrappy and aggressive," Kugler said. "Boxing out is a huge piece for us." Kugler explained that if the Lions had been more successful boxing out, they would have had more offensive opportunities, in addition to more rebounds on defense.
Kugler also noted that the Lions were hesitant to play aggressively. "We need to make sure we're building confidence," Kugler said.