Breaking barriers one swing at a time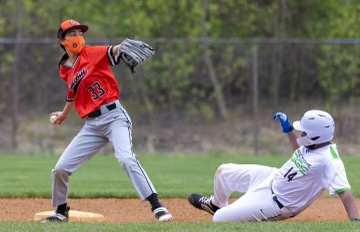 Stepping onto the field for her first Little League practice back in third grade, it would have been impossible for freshman Shalvah Lazarus to imagine playing as the first girl on the varsity baseball team in CESJDS history.
Lazarus first developed an interest in the sport by playing whiffle ball with her dad in her backyard and attending Washington Nationals games when she was four. Since then, she has played for Little League teams, travel teams, and now for the JDS team. However, as she advanced in the game she noticed fewer and fewer girls moving up alongside her. 
"At the beginning, it was pretty split. There were six girls on my team," Lazarus said. "Slowly, girls dropped out of Little League."
Nevertheless, Lazarus has continued to play the game she loves, and she is eager to bring her talents to the JDS team. Prior to trying out, she talked with the JDS coaches and received lots of support from the athletic department, including Brian Westerman, the upper school health and exercise science teacher and varsity baseball coach.
"Athletes are athletes and they're going to showcase their skills, and I was looking forward to the opportunity to see her and all of her teammates showcase their skills during tryouts," Westerman said. "To me, it was just like anybody else… I'll be able to see what their skills are and be able to make a determination of whether or not they're a good fit for our team or not." 
Members of the varsity softball team share this sentiment. Sophomore Hannah Shank describes her pride in Lazarus but also expresses that she wouldn't be interested in playing on the baseball team. 
"Softball is actually very different. It has a similar theme, but there are things about it that make it an entirely different sport that I wouldn't want to give up baseball for," Lazarus explains. 
Although Lazarus has been on the roster of several teams where she was in the minority as a girl, she also has had the opportunity to play for an organization called DC Girls Baseball, a program dedicated towards promoting girls' participation in baseball. 
"Our goals are revolution…We give them a place where they are not the only girl on the team, [but] where there [are] other girls that have the same passion for the sport," Chair and Director of Baseball Programs for DC Girls Baseball Ava Benach said. "We hope that it makes them a little less afraid, a little less self-conscious and a little more willing to be trailblazers."
DC Girls Baseball hosts practices every week and participates in four to six tournaments each year, which are both co-ed and all-girls. Additionally, they set up scrimmages and regular games against recreational leagues, travel teams and school teams. Their roster is made up of around 100 girls, with around 35 attending weekly practices, and up to 74 competing in tournaments. 
Lazarus was recruited by Benach herself when she noticed her playing on another team in the same league as her own kids. According to Benach, it is not a very common experience for girls to continue with baseball as they enter middle school and high school. 
"They start going to softball, or gravitating to sports where they can be on a girls team like soccer, or field hockey or girls lacrosse, so our goal is to give them some support if they want to stick with it," Benach said. "Not a lot of girls wind up playing high school, but it's more every year, and every year. It's becoming less weird."
Both Benach and Westerman have cited Lazarus's hard work and dedication to the sport, and offer much praise for her gameplay and skills. 
"Sports are for everyone, and people should have the right to choose whatever sport they want to play," Lazarus said. "A hard thing about being the only girl playing baseball is that I sort of represent girls as a whole on the field, so there's an added pressure for me to be good or make plays. But, I'm also so grateful to JDS for letting me play and I'm really excited for this opportunity."