The Legacy of RBG: A look into an icon's impact on the feminist movement
The U.S. lost an advocate for gender equality with the death of Supreme Court justice Ruth Bader Ginsburg on the first night of Rosh Hashanah. The loss of this key feminist prompted many to consider the state of the movement and what it means to them.
Before Ginsburg became a justice, she was an attorney arguing cases before the Supreme Court. Among the cases she argued were Frontiero v. Richardson and Weinberger v. Wiesenfeld, in which she represented a woman requesting a dependent allowance for her husband, as well as a husband who wanted the social security benefits that are typically awarded to widows but not widowers.
Senior Eilah Goldberg believes that Ginsburg was justified in representing men and women, believing that equality for all is at the heart of feminism.
"I think that what she did was peak feminism," Goldberg said. "What she fought for, equality for men and women, is what feminism is all about because it is not about making women more important than men; it is just about equal opportunities for men and women."
Feminism has evolved since Ginsburg first began her advocacy for the movement, and according to history teacher Matt Cohen, this progress has been beneficial.
"Talking to my mom about it … telling me stories about my grandmother who really couldn't do anything other than be a secretary or be very much pigeonholed into certain positions," Cohen said. "So, it's really nice to hear that my friends don't suffer [from] that overt stereotyping or overt sexism that past generations have."
Like Cohen, Goldberg sees that women are able to defy traditional gender stereotypes, and she views this change to have been prompted by Ginsburg. In order to continue her legacy, Goldberg believes that students must be civically active.
"We are not in the Supreme Court; we are just students, but [Ginsburg] empowers us to write letters to congressmen with her values and push for what she stood for," Goldberg said. "Now that she is gone, it does not mean that her legacy has to die with her. As students, we should continue that for her and keep educating ourselves and pushing for change."
Cohen agrees with Goldberg that Ginsburg dedicated herself to fighting for gender equality and motivated others to do the same. Despite her efforts, Cohen believes that there is more work to be done.
"She cared and she inspired others to care just as much as she did, and that's why the fight continues," Cohen said. "[She] fought for one of the most important and most basic rights that we need to instill within this country and the fight goes on."
Junior Zoe Fischman agrees that Ginsburg was a role model to women and young girls, showing them the results of hard-work and determination. Following Ginsburg's death, Fischman decided to visit the U.S. Supreme Court in honor of all that Ginsburg did for the country and the feminist movement.
"I really respect [Ginsburg] and everything that she did for our country, and I think that it was sort of the least I could do to pay my respects and I know that my family felt the same way," Fischman said. "I think the whole country was sort of grieving, and it felt really powerful to go and see everyone there and how much of an impact she had."
About the Contributors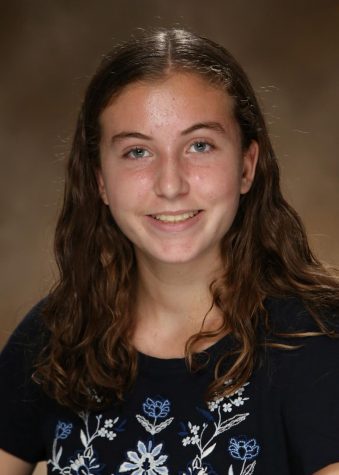 Sally Rogal, Features Editor
Sally Rogal is looking forward to continuing her time on Lion's Tale as the Features Editor after previously being a reporter. In addition to Lion's Tale, she enjoys baking, watching TV, and walking her dog. She is also part of the Debate club, Hebrew and Spanish literary magazines, and a member of the CESJDS Varsity Basketball and Softball teams. Sally is very excited for another year on Lion's Tale and can't wait to share more interesting stories with her community.