True colors
Acceptance of LGBT community increasing across the country, JDS
The percentage of Americans who identify as LGBT has grown since 2013 and was 4.5 percent in 2017, according to a Gallup poll. This growth of the American LGBT community coincides with a growth of acceptance of homosexuality in America, which rose by 12 percent between 2006 and 2016, according to the Pew Research Center. As the United States becomes more accepting of the LGBTQ community, Head of School Rabbi Mitchel Malkus believes that it is easier to achieve inclusion at CESJDS because he believes "the context that exists outside the school" directly impacts the school community.
Inclusion at CESJDS
On Jan. 17, Malkus sent an email to the school community announcing that a student was transitioning genders. In the letter, he reaffirmed the school's values of being made in the image of God, B'tzelem Elokim, and of loving your neighbor as yourself, V'ahavta L'rei-a-kha. Malkus believes that the school has an inclusive history and culture, as students who have thought about transitioning in the past have felt supported.
"The school has learned a lot about how we are inclusive," Malkus said. "Not just to say we are inclusive or to have values that are inclusive, but what do we need to do to be inclusive. We've learned a lot over the years and that's changed how we manifest being an inclusive community."
The school installed a gender-neutral bathroom in 2016 to continue inclusive efforts, and has focused on the language they use; in applications, the school now asks for information about Parent 1 and Parent 2, rather than mother and father. However, the student handbook still references the pronouns "he/she," rather than "they" in referencing students, which is generally a more accepting term.
Director of Human Resources Lori Belke sent an email in February to all faculty allowing them to include their preferred pronouns in their school email signature on. Faculty also learned about microaggressions they may be committing from Operation Understanding D.C. in a weekly faculty meeting last month.
"Helping us think of those [microaggressions], be[ing] more cognizant of those and also begin[ning] to address them … is transferable to all of our communities and to everyone in this building to make it a safe and inclusive place for all," high school guidance counselor Melissa Gartner said.
In addition to educating faculty, high school guidance counselor Rachel Soifer says the school aims to educate students on inclusion through programs, guest speakers or discussions, but nothing has been implemented by the school in the past two years. Guidance recently sought out student interest in a panel of LGBTQ speakers.
"I am not sure that the school has been making a particular effort to educate people about LGBT stuff," junior Marshall Pokras, who recently came out as transgender, said. "I am also not really sure that given the population of JDS, that it is particularly necessary …. Generally, I feel like most people at JDS are well educated about these matters."
Before educating students on an issue, JDS always consults with outside organizations that specialize in that specific subject. For issues regarding the LGBT community, the schools confers with Keshet, a Jewish nonprofit organization that promotes LGBT inclusion and integration.
"There have been a number of groups that have raised awareness in the Jewish community and it certainly makes it easier for the school to be inclusive when we can go to other organizations to get advice or consult with about how to do it," Malkus said.
In addition to some efforts by the school to educate the student body on the LGBT community, students have taken action through the high school Gay Straight Alliance (GSA) club in years past. However, following the departure of the Class of 2019, the GSA club has lost both its presidents, Henry Sosland ('19) and Lily Daroff ('19), and many of its members, so it has temporarily disbanded.
Co-advisor of the club and high school teacher Grace McMillan hopes to revamp the high school club this year, but is happy with the state of the middle school GSA club that allows for discussion in a safe space and is advised by history teacher Deborah Feigenson.
Another club that works to promote inclusion and understanding of other communities and cultures is the high school diversity club. However, the club has yet to present on the LGBT community.
The Role of Guidance
"[Guidance is] in a roll of a student advocate, making sure that everyone, whether or not it is an LGBT issue, or any other particular issue, is fully included and has full access to every opportunity that the school has to offer," Soifer said. Specifically, guidance helps all students with social-emotional needs, and for LGBT students, Soifer says inclusion is a "gigantic need."
When necessary, guidance works with LGBT students to first address any social-emotional problems, just as they would with any student; like any other issue, guidance attempts to provide the student with resources and a solution if necessary.
Pokras thinks that the school has been "fairly good" at accommodating the needs of LGBT students such as herself, but still has much room for improvement.
Guidance is not always aware of issues until a student brings something up to guidance about it because they did not know they were lacking in that specific area.
"In the case of an individual student, we want to know what does that student need and how do we have resources in place to meet their needs and where are we lacking," Soifer said.
While guidance wants to support the LGBT community and is transparent about being available to speak with students, they do not know who all of the LGBT students are. Sexuality and gender identity are not discussed with all students because guidance respects everyone's decision to keep such information public or private. Rather, guidance believes the best way to support students is to be open to and available for conversation.
Similarly, when Pokras was beginning to come out to the school community as transgender, guidance helped facilitate discussions with each of her teachers prior to coming out to her classmates.
"I had one-on-one conversations with each of my teachers with a guidance counselor present to sort of explain things, let them ask questions, put everything on the table so that nobody was shocked when I made the announcement in each of my classes," Pokras said. "They've been great with helping me to organize and put a structure to all of this very chaotic stuff."
Model U.N.
The JDS Model United Nations (UN) club has attended the Yeshiva University National Model United Nations conference (YUNMUN) for the past four years. However, the club did not attend this year's YUNMUN from Feb. 10 to 12 following the publication of an article in The Commentator, the independent student newspaper of Yeshiva University.
According to the article, the admissions office, which runs the conference, rejected a participant's topic paper that focused on the international persecution of "sexual minorities" because they thought discussing issues regarding LGBT community would be "triggering" for attendees. The Director of Undergraduate Admissions at Yeshiva University said the issue of LGBT rights around the world did not require a conversation.
When Malkus came across this article, he expressed his concern with this decision to the admissions office, as it went against JDS' values, according to history teacher and JDS model UN club organizer Michael Connell. Ultimately, Malkus decided that the school should not attend YUNMUN this year.
Although students and parents involved were disappointed with the decision, as YUNMUN is a very competitive conference, junior and Model UN club member Josie Levine understands why Malkus made the decision to not attend.
"It was frustrating because we only go to so many conferences a year and it's sad to not be able to go to another one, but I understand why Rabbi Malkus did it [made the decision not to attend] because we have to uphold the values of the school," Levine said.
Levine explained that she was disappointed that she couldn't attend YUNMUN because at most Model U.N. conferences, the JDS club has to request kosher meals and find their own times to pray on Shabbat, while YUNMUN is a Jewish Model U.N. conference and is, therefore, more accommodating to the team's religious needs.
However, Levine was also disappointed with the YU admissions office because she believes that the point of Model U.N. is to discuss topics which might be uncomfortable for certain students to better understand the policies and practices in countries around the world.
"I think that there could have been much better ways to handle the situation," Levine said.
PVAC
A change was made to the Potomac Valley Athletic Conference handbook in November, stating that an athlete will compete on the team of the gender with which they are registered at their school. The Grace Brethren Christian School in Clinton, Md. planned to leave the Potomac Valley Athletic Conference following the winter season due to logistical challenges, but left a season earlier following the amendment to the league handbook.
According to Director of Athletics Becky Silberman, the new rule change has become standard in high school leagues around the country, and Grace Brethren's values did not align with those of the PVAC.
"[Grace Brethren] leaving is their decision. You need to reflect what your school's values and beliefs are," Silberman said. "In terms of the policy change, I think it is needed. We want sports to be a welcoming environment; especially in our league, we want to be able to participate where they feel they should be participating."
Sophomore Samara Himmelfarb supports the amendment because she thinks that being on a sports team is an important aspect of many people's lives and that transgender students should be able to enjoy athletics like any other student.
"People who are [transitioning genders] have genuine intentions and we shouldn't be prohibiting them from exercising the right to be who they are or do what they want for any reason, especially when it won't have any kind of profound effect on the league or other participants," Himmelfarb said.
This story was featured in the Volume 36, Issue 5 print edition of The Lion's Tale, published on March 15, 2019.
About the Writers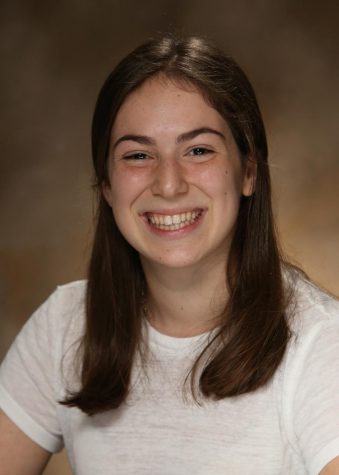 Sabrina Bramson, Editor-in-Chief
Sabrina Bramson is honored to be serving as the Editor-in-Chief for The Lion's Tale, following her time as Features Editor. In addition to The Lion's Tale, Sabrina is also Editor-in-Chief of the Melting Pot, the Spanish and Arabic literary magazine. Sabrina is very involved in BBYO and is the Vice President of Jewish Heritage, Community Service and Social Action for the Washington metropolitan area. Sabrina is also very passionate about community service and is an active volunteer for Friendship Circle as well as the Secretary of Community Service for the class of 2020. Sabrina looks forward to continuing reporting on and developing pressing stories for her community and to further explore journalism.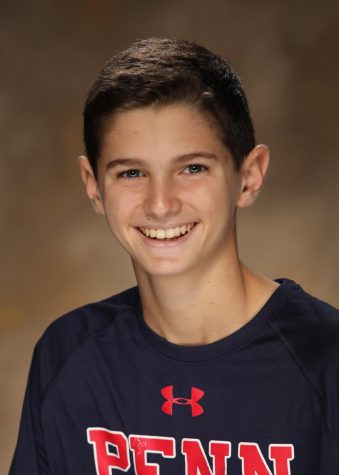 Oren Minsk, Editor-in-Chief
Oren Minsk is very excited to continue working on The Lion's Tale as Managing Copy Editor after previously working as a reporter and in the In-Depth section. He particularly enjoys the supportive community of the Lion's Tale, as well as the constant feedback and advice which enables him to become a better writer, editor and reporter. Aside from The Lion's Tale, Oren runs cross country in the fall, and track in the winter and spring.
He is also interested in politics and involved with the JDS debate team and the JDS Junior State of America chapter. Oren volunteers with the Friendship circle and enjoys traveling around the world.