On the right track
Running standout crosses finish line of varsity career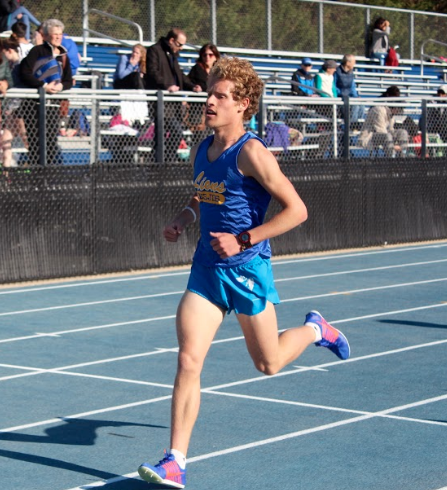 Hang on for a minute...we're trying to find some more stories you might like.
Minutes before a cross country meet, senior Reuben Winston leaves the pre-race chaos by taking out his headphones, going to a quiet space and envisioning himself crossing the finish line.
Winston first started running cross country in 2010 as a sixth-grader because of his sister's involvement in the CESJDS running program. What started as a casual after-school extracurricular gradually became years of competing in meets and setting several JDS records.
"I wasn't very serious about [running initially,] but I was with my friends and I had fun," Winston said.
Winston's older sister was a very successful JDS runner herself, so he joined the team with high expectations for his own performance. Winston, however, said that he still did not feel too much pressure when he joined.
Jason Belinkie, coach of both the cross country and the track and field team, first thought of Winston as a young athlete with plenty of potential. Despite his evident talent, Belinkie was unsure if Winston would fully commit to the sport and prioritize it over other activities. In Winston's first season, he impressed Belinkie with his dedication to the sport, at one point cutting his mile time by 30 seconds in a month before finishing the season with a time of around six minutes.
"That was the moment I knew we had a very, very fast runner on our hands, and we needed to spend a lot of time nurturing and making sure that he stayed involved in the sport," Belinkie said.
Throughout the rest of Winston's middle school career, he set league records in the PVAC and finished a full minute ahead of the field in the 3200-meter race. According to Belinkie, Winston was ready to move up to varsity in seventh grade, but Belinkie decided to hold him back so that he could have the opportunity to win a championship in middle school.
When Winston was in eighth grade he moved up to varsity and placed 16th in the championship race. Throughout high school, Winston set many personal and school records and saw the team achieve success as well. Some of his JDS records include a time of 4:39 for the 1600-meter, 10:07 for the 3200-meter and 15:59 for the 5K.
As a result of his statistical prowess, Winston has been recognized by several local athletic organizations. In 2016, he received the Maryland Runner of the Week Award and the Hyman J. Perlo Award for outstanding athletics and community service. He also placed seventeenth in the 2,000-meter steeplechase at the 2016 USA Track and Field Junior Nationals in Sacramento, Ca. and was a 2016 Washington Post All-Met boys cross country honorable mention, the first JDS athlete to ever receive the honor.
Winston has not only become a talented runner, but also contributed greatly to his team's recent successes. According to Belinkie, Winston, along with a few other students on the team, has transformed the running program into one that is significantly more competitive than before they joined. In 2014, as a sophomore, Winston helped to lead the boys varsity cross country team to its first ever championship, a feat that the team repeated the next two years. Winston has left a strong legacy for the team and believes that the team will be able to continue the winning streak for the next few seasons.
"
I knew we had a very, very fast runner on our hands, and we needed to spend a lot of time nurturing and making sure that he stayed involved in the sport. "
— Cross Country Coach Jason Belinkie
When science teacher Kelly Grosskurth became a track and cross country coach in 2013, Winston was already on the varsity team. Grosskurth said that from her first meeting with Winston, he seemed like a member of the team who was serious and devoted to the running program.
"[Winston leads] through example through his dedication to the sport and really putting in all the mileage and the effort which you need to do to be a competitive distance runner," Grosskurth said.
Winston plans to continue this level of training into a college running program, because every college student who is part of a cross country or track team with whom he has spoken has enjoyed the experience. Winston's college application process was typical for a proficient athlete, as many coaches reached out to him and displayed interest in having him in their program. Although he had several options, Winston knew that he wanted to put academics before athletics so that he would be set up for success in the rest of his life.
Winston's top choices were College of Charleston, Temple University, American University and Dickinson College. In the end, he committed to Dickinson College, a Division III school, because he said he liked the track program, the coaches and especially the academics.
"I could tell Dickinson was a place where I'd be able to spend four years and enjoy it, and be with a group of guys that I could really have fun with," Winston said.
As Winston takes the next step in his running career, he has been reflecting on his JDS running experience. He attributes the majority of his success to his coaches and his teammates who have pushed him and served as his mentors for the past couple of years.
"It's just been such a journey and I'm so happy that I was able to spend it with such an amazing group of coaches and friends," Winston said.