TV show review: "Stranger Things"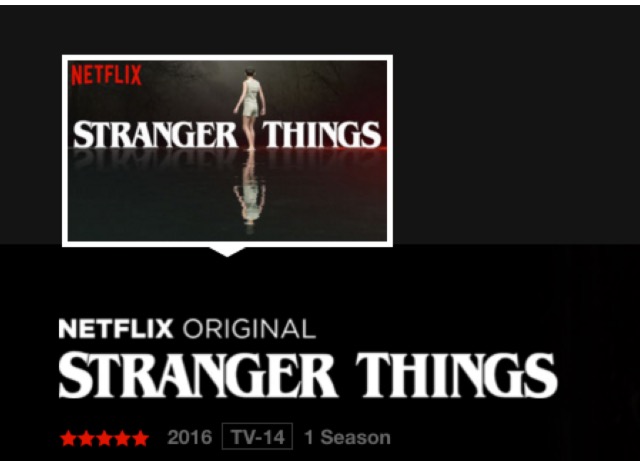 A few months ago the name "Stranger Things" began to pop up on almost every social media website. I tried to ignore the unceasing ads, but recently I gave up and decided to watch the Netflix series. Within 48 hours, I completed all eight 50 minute episodes
Some may be reluctant to watch "Stranger Things" because it's in the horror genre. I too was wary of the show for that reason. There were some jump scares and gory moments, but overall, "Stranger Things" was not as scary as I thought it would be. The only truly scary thing was the Demogorgon. This strangely named creature kidnapped people and took them to an alternative universe called the Upside Down.
The first victim of the Demogorgon is a kid named Will Byers, played by Noah Schnapp, which occurred in episode one. Before Will is taken, he spends a day playing "Dungeons and Dragons" with his three other friends: Mike Wheeler played by Finn Wolfhard, Dustin Henderson, played by Gaten Matarazzo and Lucas Sinclair, played by Caleb McLaughlin. Once they find out Will is missing, they immediately go to look for him even after the police tell them not to. During their search they meet a girl named Eleven, played by Millie Bobby Brown, who has a dramatic back story and super powers that originate from her brain.
Eleven is my favorite character. Even though she is shy and doesn't speak much, she has a powerful aura. Eleven, the three boys and the whole rest of their town have a goal: to solve the mystery of where Will Byers was and who or what took him. This goal is the focus of the rest of the season.   
Each episode drew me deeper into the story. By the time I was finished with the first season the only thought that ran through my mind was, "where is the second season? I need to watch it right now!" The thrill, mystery and horror within the show blew my mind. Every second I was on the edge on my seat, wanting to know what would happen next. There was no such thing as pausing, only playing.
Never have I been so impressed with a TV show as I am with "Stranger Things." Each character has shown tremendous character development, and also has a lesson to teach. The young characters teach that kids can accomplish great things and don't have to be adults to do so. Eleven teaches that being liked by others doesn't mean you have to be normal. The police and Will Byer's family teach to never give up hope even when it seems like it's gone. "Stranger Things" is more than just a TV show on Netflix, it's a lesson for life. I can't wait for next season.