Alumnus takes direct action for the environment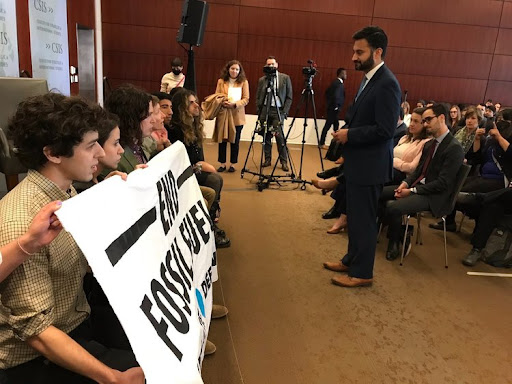 Alumnus Michael Greenberg ('12) was almost in D.C. when he got the call. Despite his sophomore year attempt to sneak the environmental club out of school to meet former Representative Chris Van Hollen, CESJDS administration caught wind of his plan and scrambled to find a chaperone for the trip. This act of defiance was just the beginning of what has become a career of disruption and activism for Greenberg.
Though Greenberg is not president of the JDS Environmental Club anymore, he has replaced this esteemed position with another influential role: co-founder of Climate Defiance. 
Climate Defiance encourages youth to make a difference. On the Climate Defiance website, the organization states: "We are young. We are livid. We are no longer willing to be disposable."
Climate Defiance is a youth-led organization whose mission is to bring about environmental and social change. Greenberg saw many organizations playing what he calls the "inside game" through actions such as petitions, lobby meetings and coalition letters. While this can bring change, Greenberg created Climate Defiance to deploy disruptive tactics in order to break through the chaos that is U.S. politics.
Climate Defiance's current goal is to end fossil fuel leasing on government land. As disruptors, it is only fitting for them to stage a blockade at the White House Correspondents' Dinner on April 29.
"We're jamming our message in at a high profile opportunity that wasn't otherwise meant to be about our message," Greenberg said. "There will be a large presence of media personnel at the dinner."
This high attendance of media at the event will help spread the message and help Climate Defiance make a larger impact.
Greenberg began organizing on the climate front with a protest against the Line 3 Pipeline. Constructed in 2021, Line 3 is an oil pipeline that met opposition for its encroachment on Native American lands, negative environmental impacts and safety issues. Greenberg then helped plan a protest at U.S. Senator Joe Manchin's personal coal plant. 
"Those actions got a lot of attention in the moment," Greenberg said. "But they didn't build long term sustainable power." 
From this realization, Climate Defiance was born. 
Greenberg wanted to create an organization that was able to garner a lot of attention through the media, but also have long term structure to ensure continual success. With Kevin Mccarthy's election as Speaker of the House of Representatives, Greenberg said he didn't think there would be much meaningful legislation. Because of this, Climate Defiance focuses on more direct action, where they target events and organizations that can give them the most attention and the opportunity to make the largest impact.
Math teacher John Watkins-Chow remembers Greenberg as a student, and said he isn't surprised that Greenberg has pursued activism. Watkins-Chow remembered Greenberg as a "dreamer." 
"He always looked like he was daydreaming about something," Watkins-Chow said. "He always seemed like he was thinking about something more." 
Though Greenberg said JDS didn't specifically teach him activism, the Jewish values the school emphasized influenced Greenberg. He said that a particular value from pirkei avot inspired him: "It is not your duty to finish the work, but neither are you at liberty to neglect it."
"This is something I think about all the time when it comes to climate change," Greenberg said.
Greenberg also draws upon this teaching when he ever feels discouraged. He emphasizes that in a career such as his in the current political landscape, it is necessary to not feel hopeless.
"None of us will change everything ourselves, but we all can play a role," Greenberg said. "We have no choice but to remain stubbornly optimistic and believe that we can do something good."