Family bonding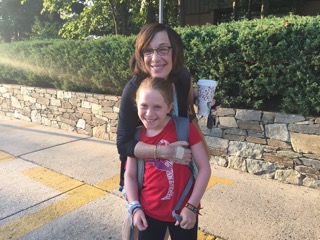 On her first day of kindergarten, freshman Ruby Kotok walks into the classroom and instantly eyes a fresh pear on her desk. Beneath it is a note from her grandmother who happens to be across the hall. Kotok certainly feels special, but she's not alone – there are many CESJDS students who have family members working at the school.
Evonne Schnitzer worked as a kindergarten teacher at JDS for 30 years and came to the Upper School in 2022 to help out as a temporary Middle School Adviser. She has always either been in the school with one of her children, who are all JDS lifers, or her grandchildren, including granddaughters freshman Ruby Kotok and senior Ella Kotok. This has fostered a strong bond between Schnitzer and her family members which she values more than anything, though acknowledges that it could have been awkward for her grandchildren.
"It's great to see them in their natural everyday environment," Schnitzer said. "But if I saw them going out to recess without a coat or jacket then I would say something, which may have been embarrassing."
Ruby looks back on special moments that she shared with her grandmother in elementary school in a positive light and continues to create memories like these whenever she walks past her grandmother's current office. 
"It's very nice to have a family member that isn't a sibling at school with me," Ruby said. "And I like being able to go to her if I need something or to talk." 
Familial relationships at JDS also include parents and their children. Middle school Hebrew teacher Liat Arditi Zarouk is in her fourth year at JDS and is the mother to sixth grader Elad Zarouk, freshman Ori Zarouk and senior Noam Zarouk. For her kids, it has always been normal for their mother to teach at their school. 
"When I worked in Israel as a teacher, they went to the same school I taught at, so I already knew that it worked well for us," Arditi Zarouk said.
Arditi Zarouk is careful not to interrupt her children's school days, but still enjoys passing by them in the hallways and seeing them with their friends at Kabbalat Shabbat on Fridays. She ensures that her children's roles as students do not interfere with her job as a teacher, as much as she enjoys being at school with them. 
"When we are in school, I'm a teacher and they are students and we are not related," Arditi Zarouk said. "And when we come back home, we are a family again."
Ori has been attending JDS for four years alongside his mother. Ori said that it can sometimes be irritating when his fellow students remark on his mother's presence at school, but the overall experience is positive. 
"I always feel more connected to my mom when we have things to talk about because she works here," Ori said. "I can talk to her about [school] things and she understands."
Familial relationships within JDS are an integral part of the school community. 
"I'm glad she's here," Ruby said. "G'veret Schnitzer is everyone's grandma."