Student volunteers as EMT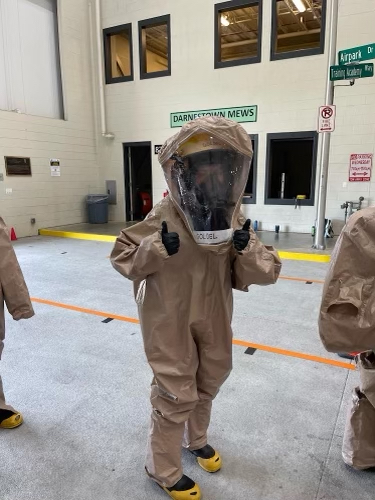 Adrenaline pumped through junior Miriam Goldel's veins as the ambulance approached the patient's house. She reviewed her role for the last time in her head, nervous but prepared for the daunting task at hand. Upon approaching the caller's house, Goldel's job was to provide the trained EMTs with medical supplies. Despite the initial stress, the experience of riding in an ambulance and responding to a call was very beneficial for Goldel's overall training. 
Goldel is a volunteer trainee at Fire Department Station 10 at Cabin John Park. She is a part of the Junior Emergency Medical Service (EMS) program where she is in training to become an Emergency Medical Technician (EMT). 
"I'm on shift on Monday nights, and I ride the ambulance, basically as an observer, because I'm not trained yet," Goldel said. "I'm starting EMT class in January, hopefully, and then I'll actually be trained to know how to help."
Goldel was introduced to this program from family friends in her Havurah, including some  CESJDS alums. After having frequent conversations about their experience, Goldel decided to apply. She has been volunteering at the fire station since last November and taking classes since April. Her typical shift starts are from 5 p.m. to 11 p.m. every Monday night. Usually, Miriam and the other trainees will clean the station, mop and sweep the floors and do anything else that is needed. 
Goldel, along with the other people on shift, will then take inventory to ensure that all the necessary supplies are in their correct place. Goldel also provides help for people who are currently taking an EMT class. 
"If they need to do anything for their class, then basically like me, and the other person who is not an EMT class would be like their patients, and they just like practice skills," Goldel said. "So last week, she practiced wrapping up my ankle and my knee and my elbow and my wrist and my shoulder."
Goldel receives SSL hours for her six-hour shifts at the station. Randy Goldel, Goldel's father, believes that this program is providing her with significant life skills. 
"There are a few ways this is beneficial to [Goldel]," Randy said. "First, she is learning basic lifesaving skills that will be useful throughout her life. Second, she is able to help people in the community, a value that is very important to our family. Third, she is learning valuable lessons about teamwork, handling uncertainty and problem-solving." 
Although working at a fire station can provide Goldel with important educational experiences, it also exposes her to potentially traumatic situations. On one of the first calls she was helping attend to, the patient passed away, which Goldel described as "overwhelming."  
"It was jarring when we first heard this had happened on a call Goldel was on," Randy said. "We first thought that perhaps this was too much for a 17-year-old, but as we thought more about it we realized that this is simply part of the reality of being an EMT. Many situations have a happy ending where the patient can be helped, but sometimes the situation ends sadly or tragically."
Overall, Goldel enjoys participating in the program and appreciates the experience it has provided. 
"I'm not sure what I want to do as a career when I'm older, but this will give me a lot of other opportunities," Goldel said. "Also, I just think it's fun. And I think doing this is really a way to give back.