Boys varsity basketball team beats rival Berman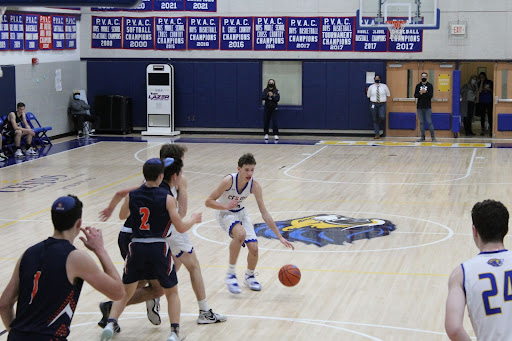 With the clock winding down, junior forward David Fritz dribbled out the final seconds with the whole CESJDS fan section on its feet, ready to celebrate. When the buzzer sounded, students flooded the court and mobbed the players, marking a statement win against Melvin J. Berman Hebrew Academy with a final score of 49-42.  
This rivalry was the first game against the Cougars in almost two years. Although there were necessary safety regulations such as masks for all fans and a limited capacity crowd that made it very hard for students to get tickets, as soon as the game started it seemed like any normal game. It was clear that students had been waiting for this for a long time. 
"[The crowd] was electric. They were riling us up, and I was riling them up," junior center Ben Bass said. "It was a lot of fun. When we go out there, we play for [the crowd]. So this was great."
The game got off to a slow start as both teams struggled on offense. However, in the second half, the energy picked up and the Lions drained many clutch shots down the stretch to put the game away. 
"My favorite moment from the game was Todd [Lazoff]'s shot to put the game away late," Fritz said. "We hadn't scored in a little while and needed a bucket there, so that was big for us. That play really stimulated our team."
Fritz led the scoring for JDS, earning 17 points, and Lazoff followed with 11. The win can also be credited to the Lions' stellar defense and hustle throughout the game, which is a key factor in their success as a team. 
"They played so hard. They play really hard defense. That's become our mantra," head coach Dave McCloud said. "We play tough defense and that's a big deal. A big part of what we do as a team can be attributed to our defense."
Junior guard Jonah Gross embraced this mantra, and he did a great job containing Berman's star point guard. The team also got a meaningful contribution from senior guard Eli Gordon, who knocked down two crucial 3-pointers in the contest.  
"It's been a tough season. But this team really came together, and we battled," Gordon said. "This is our biggest enemy, and we wanted it more than anything, so we took it. It means a lot to me as a senior captain, and I'm proud of the way we fought. We deserved this game, and I can't wait for what's to come."