CESJDS food services director Erick Gilbert departs for University of Maryland Hillel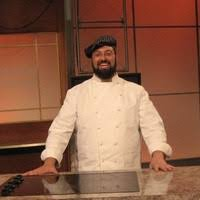 While former Food Services Director Erick Gilbert will no longer be serving food to students at CESJDS, he is still working with students, just a little bit older: college students at the University of Maryland's Hillel. 
After working at CESJDS for 16 years, Gilbert is now the Director of Dining at Hillel. His kosher catering business, Varsity Kosher, also provides food to Hillel three to four days a week.
Gilbert has introduced many new foods at Hillel and has incorporated his method of scratch and batch cooking that he has been using over the years. 
"We make our own hamburgers, meatballs and sauces from scratch. The previous vendor used a lot of out of the box food and dressed it up with premade sauces. That kind of food has its place, but quality is sacrificed," Gilbert said. "Also, because we make at least 80% of the food from scratch I can accommodate the speciality eaters with more options."
While working at JDS, Gilbert implemented a nutritional makeover with the kinds of foods he was serving to students each day. He expanded the salad bar, and introduced new healthy dessert options for students. The "Z brownie," which was made with zucchini and applesauce, and the home-baked cookies which were made with at least 51% whole grain and sometimes with 100% whole grain, were the most healthy options. 
Gilbert said he was very proud of creating healthy food options and an inclusive environment for students to enjoy their lunch break. 
As he adjusts to his new job, Gilbert said he will miss a lot of things about JDS, especially the hard work that his job entailed.
"I'm going to miss the excitement and the challenge of making really good food that appeals to all the students," Gilbert said.
Gilbert said that the support that the JDS faculty and staff gave him was very beneficial and pushed him to do the best he could at his job. 
"JDS gave me the space to develop my professional management skills," Gilbert said.
Associate Executive Director at the University of Maryland's Hillel Naomi Gohn said Gilbert's reputation and personality made her feel like he would fit in very well with the Hillel community. Since starting his new job, Gilbert has already had an impact on Hillel.
"He has already brought a lot of fresh, new food items, and he also has a lot of fun ideas that we hope to use in the near future," Gohn said. 
At JDS, Gilbert was able to recognize the involvement of the students in the community and he said their presence brightened up each day. 
"The students are so thoughtful and it looks like the student body is really involved with the bigger picture of things," Gilbert said.