Review: Israeli falafel restaurant shines in Georgetown
When you walk into Taïm -– the new casual falafel spot in Georgetown -– the door says, "The Vegetarian Mecca;" that is exactly what it feels like. With colorful Middle Eastern tiles decorating the walls and an equally colorful Israeli menu, Taïm ("tasty" in Hebrew) is a mix of Georgetown's lively vibe and signature Middle Eastern food. While I've had better falafel in Israel, Taïm is as close as it gets in Washington, D.C. 
According to their website, Taïm first opened in 2005 in lower Manhattan by Israeli native, Chef Einat Admony. Back then, it wasn't just a falafel place, but it also featured a variety of Mediterranean foods. The restaurant was a big success, so Chef Einat decided to open a D.C. location. Taïm is located near the waterfront and other restaurants and shops in Georgetown, and is certified kosher by DC Kosher.
 When I walked in, I first noticed the diverse clientele. Taïm was filled with people of all ages and races. American pop music played while the customers chattered loudly. The restaurant holds about 50 people, and there are light wooden tables and a bar at which people to sit and eat. 
I first walked to the counter, where I admired the menu with featured falafel, salads and other Israeli fare, which could be ordered as a sandwich or platter. I was surprised to see cauliflower shawarma, which remarkably resembled meat shawarma. 
The menu also featured creative drinks such as the Taïm fresh ginger mint lemonade and a variety of smoothies including Date-Lime-Banana and Tahini-Banana Toasted Almond. I had the Taïm fresh ginger mint lemonade which I thought was a great drink. The refreshing taste of ginger and mint combines beautifully with the sweet and sour lemonade. 
I ordered a falafel sandwich with hummus, tehina, red cabbage, pickles and Israeli salad. Just a few minutes after we ordered, the food was brought directly to our table. 
The falafel was tasty, crisp and not too oily. I was slightly disappointed that the pita was neither warm nor soft. The hummus had a pleasantly thick consistency, and the salads were fresh and lemony. The cabbage salad was particularly tasty, a perfect combination of sweet and spicy. The fries that came with the falafel were hot, crispy and salty. The portions were large – a sandwich and fries were more than enough for dinner. The prices ($8.95 for falafel, $4.00 for fries and $3.50 for lemonade) were reasonable, especially for a Georgetown restaurant.
While nothing beats a great falafel in Jerusalem, it was gratifying to eat good falafel in a modern and fun Georgetown setting. If you're looking for tasty, vegetarian and Middle Eastern food, Taïm is an excellent choice.
Taïm is located at 1065 Wisconsin Ave NW, Washington, DC 20007, and is open from 11 a.m. to 10 p.m. on both weekdays and weekends.
Leave a Comment
About the Contributor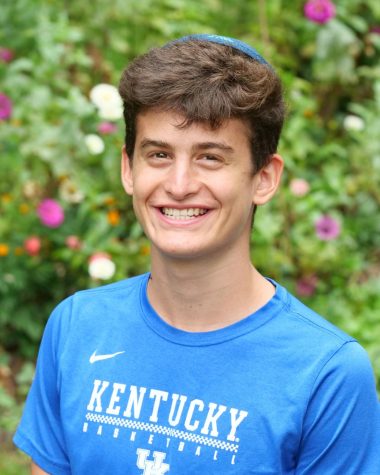 Matan Silverberg, Managing Editor, Copy
Former sports editor Matan Silverberg is very excited to serve as a Managing Copy Editor for the Lion's Tale this year. Writing is one of Matan's biggest passions, and he enjoys the challenging yet satisfying process of restructuring and editing articles. When he is not editing articles, one might find Matan jogging through Rock Creek Park with his dad, playing basketball with his little brother, or perfecting his ice skating at the local rink. Matan looks forward to working hard with his co-executives and other staff members to make the Lion's Tale the best place that it can be.