What's on the menu for this year
Just as students make new study plans, determined that the year will be different, and teachers revisit and freshen up their lesson plans, CESJDS food services manager Erick Gilbert makes changes to the lunch program as the new year ushers in.
One of the biggest changes Gilbert considered involved greater clarity regarding food pricing. In past years, students often did not know how much they actually were paying for their food, which Gilbert understands. When students get food from multiple stations, the price can be unclear.
"I think that food ends up being much more expensive because you pay for different bundles or if you don't get specifically what they offer, then they end up just adding it [all] up and it ends up being extremely expensive," sophomore Zoe Fischman said.
Despite student concerns that the food can be expensive, about 60 percent of the student body buys food from the cafeteria on any given day, according to Gilbert.
To help create better price clarity, Gilbert decided to add three different sized bowls at different price points, $6.20, $8.40 and $9.50 respectively. The three sizes will each have a different color to maintain consistency throughout the year, making it clear how much a student's lunch will cost.
"I am trying to figure out what's a fair representation of what you're buying, how it translates [to the cashier] and exciting food that works well, that the students like, [that] also fits into the schools larger nutritional values," Gilbert said.
Starting this year, there will also be three different menus over the course of the year. There will be a fall, winter and spring menu. Within these menus, food will also switch every six to eight weeks in order to keep a variety of options available. Also, when the winter menu begins after Thanksgiving, there will be many more vegetarian plant-based options available including a vegan beef crumble chili.
Gilbert is also trying to create a more environmentally friendly lunch program that utilizes more recycled materials. Early in the 2018-2019 school year, Gilbert considered adding recycled plasticware; however, the plant-based ware cannot yet withstand high heat, so it could easily melt when being used for high-temperature foods. Until the functionality of recycled and plant-based plastic ware improves, regular plastic ware will be necessary.
"It's a lot of people to cater to, so it's hard to find environmentally friendly options, but I think [switching to recycled utensils] is a super great and pretty easy way that they can switch," sophomore Talia Jacobsohn said.
Planning for the next school year begins several months in advance. Early in the calendar year, Gilbert starts conducting research about new food options and starting on July 1, he makes decisions and finalizes the menu for the upcoming school year.
Students and staff would like to see Gilbert continue to experiment with new options while also keeping the price low.
"I think that the lunch department at JDS has been making significant strides towards a better lunch with more freedom for the students," Fischman said. "I really appreciate that, and the food has significantly improved over the time I had at JDS since kindergarten."
This story was featured in Volume 37, Issue 1 print edition of The Lion's Tale, published on Aug. 27, 2019.
Leave a Comment
About the Writer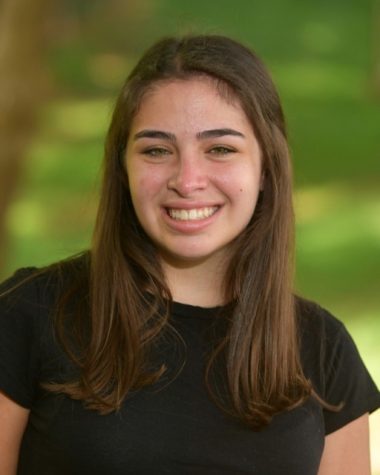 Maya Preuss, In-depth Editor
Maya Preuss is looking forward to continuing her time on Lion's Tale as an In-Depth Editor after previously serving as a News Editor and Assistant News Editor. Outside of Lion's Tale, Maya is also a member of the CESJDS Varsity Soccer and Basketball team. She is excited to work alongside Lion's Tale's amazing staff members and cannot wait for another incredible year on Lion's Tale.