Basemnt brings new beats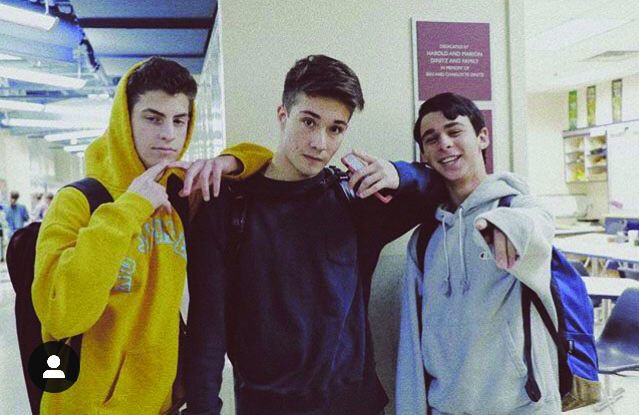 Sophomore Aiden Kirsh, Jagger Balkin ('19) and Jordan Schneider ('19) often found inspiration and produced rap music in Schneider's basement, throughout the majority of the 2018-2019 first semester.
Several CESJDS students pursue the production of rap music, either as a hobby or a potential career both with other students and on their own. The Basemnt, comprised of Balkin, Schneider and Kirsh, is one popular group of rappers at JDS. Schneider, also known as DJ Jordy, makes the background music, or beat, for the group and participates in the rapping, as well. The Basemnt spent around eight hours a week recording in Schneider's home studio together, and they enjoy collaborating with one another. After coming out with their song "Double Cup" towards the beginning of the year, The Basemnt started to gain popularity amongst JDS students. They will continue to create music once Schneider and Balkin return from Israel.
"I rap with others because for me, it's only fun when you are doing it with your friends and just having a great time together," Balkin said.
Balkin and Schneider have been making music together for three years, and use their creativity and freestyling skills to guide their music production. Prior to moving to Maryland from Florida last year, Kirsh had been creating music with SoundCloud, a free online music application where all artists can share their music. When he met Schneider and Balkin, Kirsh started to record music with them, and they later formed The Basemnt.
The Basemnt has made seven songs, all on SoundCloud and produced by Schneider.  Schneider's style of production is unique because he "has two sides: a sadder, depressing style, and trap/EDM," which he has developed over the past eight years.
According to Kirsh, the group raps about "fashion, money" and other inspirations, all of which are trends among other rap artists. Usually, the students enter the studio when something particular has happened and they want to express and voice their thoughts through rap music. When they don't feel inspired by their daily lives, the group members draw upon each other for inspiration.
Schneider has spent his whole high school career focusing on making beats in the hopes of turning it into a career, and, due to all of his hard work, he practically has. Schneider now DJs for several clubs and gets paid to create beats for other SoundCloud artists and to record them in his studio.
According to music teacher Aaron Dunn, rap is an inclusive type of music that allows different types of musicians to express themselves.
"Singing is very intimidating to a lot of people, so when you take out the actual vocal prowess of it, [it] allows people to feel like they can be a part of the musical experience," Dunn said.
The Basemnt's approach to rapping is similar to other popular rappers' approach, as they are creative and have similar music to rappers such as Migos or Lil Pump. In fact, Balkin was inspired to rap by both Lil Pump and Schneider and believed that if his classmate was producing music, he could too.
"Not everyone can create it, but everyone can replicate it, so it's very inclusive in that style like it takes really creative and, in many cases, ingenious people to be able to originate a rap," Dunn said. "But then once it's created it's really enjoyable for people to be able to learn it and then taking it and feel like they're able to partake in a music experience."
This story was featured in the Volume 36, Issue 5 print edition of The Lion's Tale, published on March 15, 2019.