Not your average roll: New restaurant Fuses sushi with burritos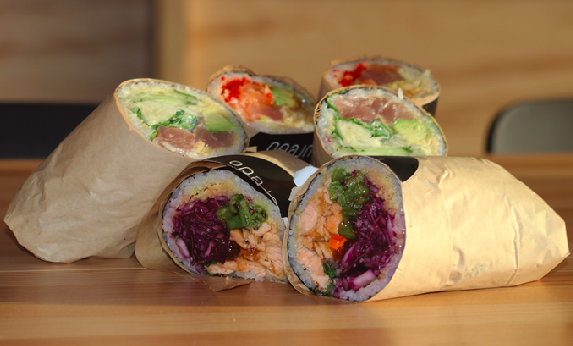 Distant cuisines unite at Buredo, with a trendy, cross-cultural mash-up of sushi and burritos. With two restaurants in D.C., Buredo recently opened up a third location in Bethesda's Wildwood shopping center. As a long-time sushi enthusiast and burrito aficionado, I was eager to try it.
As I walked into Buredo, my eyes were immediately drawn to the unique decor. Neon lights ran up and down the ceiling, which gave the restaurant a modern feel. The left hand wall featured a colorful mural and several smaller art pieces were scattered throughout the dining area. While the design is attractive, the restaurant was narrow and felt cramped, even with only about five diners inside.
The menu consists of ten different sushi burrito options, along with several side dishes and snack options. The price range for the burritos is from $8.95 to $12.85. The snacks and drinks are all around $2. I decided to get the Hanzo burrito, which consists of tuna, avocado and lemon sauce. It did not take longer than five minutes to make the burrito, which is ideal for those who need to get back to work or home. Due to the cramped feel of the restaurant, I ultimately decided to eat at home.
The burrito itself was generously sized and quite filling. The presentation was kaleidoscopic, as the different ingredients contributed many colors to the meal. The burrito was neatly sliced in half for a clean and easy eating experience. The fish tasted fresh and the lemon sauce that was drizzled on top was tangy and sweet. Unfortunately, the rice and seaweed were a bit overbearing due to how much there was wrapped around the burrito. Overall, the Hanzo sushi burrito was a satisfying dish and I would definitely order it again. 
Although the food was tasty, I did uncover a red flag. Due to my nut allergy, I checked the website prior to my visit and noticed an allergy warning. When I called the restaurant for details, an employee picked up on the second call, and informed me that there were peanuts in a sauce. When I visited the restaurant, however, the employee who was taking my order told me that they did not have any nuts in their restaurant. Due to the conflicting information I got concerning allergy warnings, those with severe allergies should be cautious when visiting Buredo.
I will say that I would like to go back to Buredo, but I found some of the customer service lacking. The food itself, though, was as tasty as it was colorful.
Buredo is located in the Wildwood Shopping Center at 10219 Old Georgetown Road, Bethesda, Md. 20814. Hours are 11 a.m. – 9 p.m. daily.
This story was featured in the Volume 35, Issue 2 edition of The Lion's Tale, published on Oct. 20, 2017.