Two spins on classic Thanksgiving recipes
Thanksgiving is a time to be grateful for all that you have and what better way to say thanks to all the people in your life than by baking some tasty Thanksgiving inspired treats.
These two desserts are both spins of classic Thanksgiving favorites.  
Cranberry bars: Recipe courtesy of Corinne Yourman (family friend)
1 ½ sticks unsalted butter, cut into cubes
2 cups all-purpose flour
½ teaspoon salt
1 cup and 2 tablespoons granulated sugar
3 cups fresh or frozen cranberries
¼ cup water
Steps:
1. Preheat oven to 350℉.
2. Line a 9-inch square baking pan with foil over the edges of the pan, then brush melted butter on the foil.
3. Mix together the butter, flour, salt, and ½ cup sugar in a food processor until the mixture starts to clump up. Press into the bottom of the pan and bake for 25 to 30 minutes or until the crust is golden.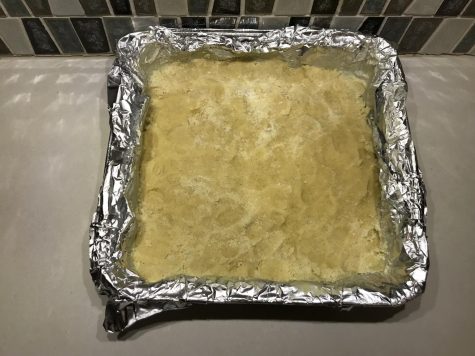 4. Cook the cranberries, ⅔ cup of sugar, and water in a saucepan over medium heat, for 6-8 minutes or until the berries burst, while stirring occasionally.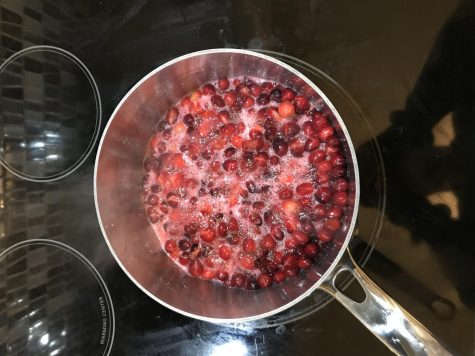 5. Pour the cranberries on top of the crust and bake for another 25 minutes.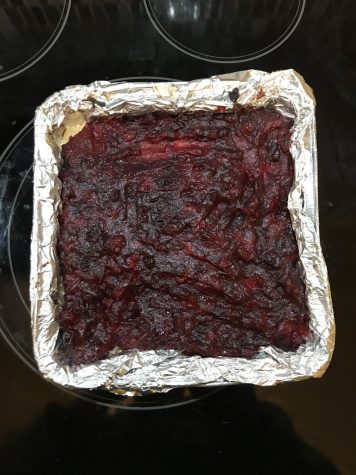 6. Using the foil over the edges of the pan lift the cranberry bars out of the pan.
7. Cut into squares.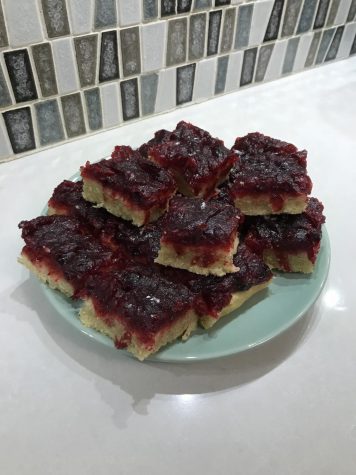 Mini Chocolate Pecan Pies: Recipe courtesy of Leah Rogal (family recipe)
1 package (8 squares) of Semi-Sweet Baking Chocolate
12 mini pie crusts
2 tablespoons of butter or margarine
3 eggs, beaten
¼ cup of firmly packed light brown sugar
1 cup light or dark corn syrup
1 teaspoon of vanilla
1 ½ cups of pecan halves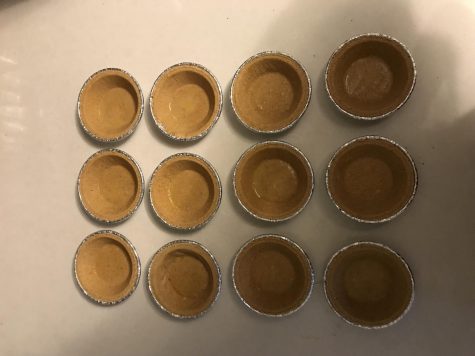 Steps:
1. Preheat oven to 350℉.
2. Break up 4 squares of the chocolate into small pieces.
3. Melt the other 4 squares of chocolate and butter.
4. Brush the bottom of the pie crusts with some beaten egg.
5. Combine the sugar, corn syrup, eggs, and vanilla into the chocolate mixture.
6. Stir in pecans and chopped chocolate. Pour the mixture into the pie crusts.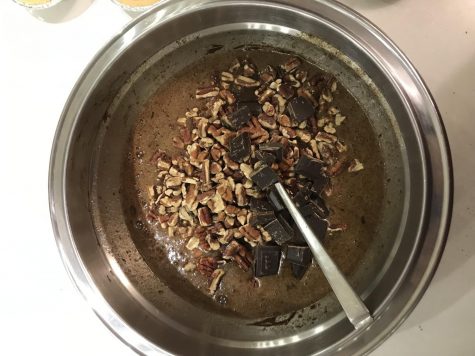 7. Bake for 55 minutes. Cool on wire rack.