Restaurant review: Zoës Kitchen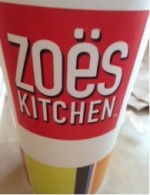 Zoës Kitchen has always been a go-to restaurant for my family. Being 10 minutes away from my house it is convenient as well. With its modern decor and fast service, Zoës Kitchen has never let me down.
The food at Zoës Kitchen is created based on a Mediterranean-style menu. The menu consists of different varieties of hummus, sandwiches, salads, wraps, kebabs, sides, desserts and a kids menu. Even with the variety of options on the menu, I always choose the Greek salad. Topped with vegetables, feta cheese and a homemade dressing, the Greek salad has been my favorite meal at Zoës Kitchen for more than two years. It is refreshing and delicious.
Concerning the look of the restaurant, the outdoor appeal is nothing compared to the space inside. Color fills the restaurant from front to back. Upbeat music plays from the speakers which matches perfectly with the bright environment. As you walk up to the counter the employees always greet you with a smile. The menu is located above the cash register for convenience. The counter has an assortment of desserts, drinks and containers of sides, such as potato salad, that can be bought along with your meal. Behind the counter is the kitchen which can be seen through a window, which creates an open feel and makes the restaurant appear larger. The majority of the restaurant's walls are large windows. This outside view also helps make the eatery more spacious.
After ordering, you have the choice of either sitting at a regular table, a tall table or a booth. My only complaint is that there is a limited amount of booths compared to the amount of tables. All the chairs correspond with the color theme of the restaurant: green, orange, red, black, blue, brown and white. On the tables sit the homemade dressing that is put on the Greek salad, descriptions of different spices Zoës Kitchen uses and the classic salt and pepper. The service is very quick which is one thing that I think is important for a restaurant. The food is very fresh and delicious.
As someone who is allergic to nuts, another thing that I love about Zoës Kitchen is their nut-free menu. Having an allergy can be tough, but finding a restaurant that is completely free of your allergy is like finding a golden ticket in a chocolate bar: it's rare, but it's amazing when you find it. In the past I have gone to other restaurants that could not meet my nut-free needs, or have said that they could but I ended up reacting anyway. Allergies are scary and you never know when one little ingredient may hurt you. Their allergy-friendly menu is an example of why Zoës Kitchen is one of the best restaurants I know.
In addition to my personal experience there, Zoës Kitchen's location is very well planned out and convenient. The shopping area Zoës Kitchen is located in contains a variety of other restaurants and grocery stores. According to Google Maps, Zoës Kitchen is about 15 minutes away from the Upper School by car. The downside to the distance between CESJDS and Zoës Kitchen is that it is a four-mile walk. If you're planning on walking I suggest you wear your walking shoes. If you are planning to drive there is free parking outside of the restaurant.
Overall, Zoës Kitchen is a great restaurant and I highly recommend it.
Directions to Zoës Kitchen from the Upper School.