Lions fall to Knights in last regular season game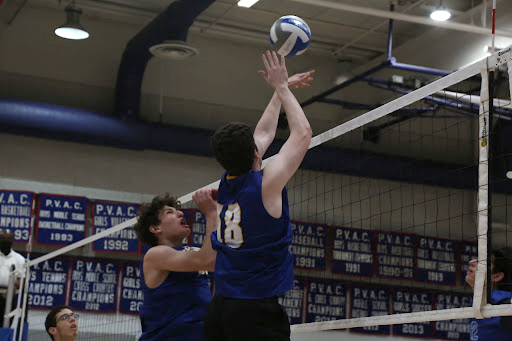 The boys varsity volleyball team lost in a 3-0 blowout against the first-place Bishop O'Connell Knights on Thursday in the last game of the regular season. The Lions ended the season 8-5.
The Lions were left to play Thursday's game without star sophomore Itai Topolosky who is out with a rib injury. Despite being sidelined, Topolosky sat on the bench and cheered on his teammates during the game.
"It's hard to see your team lose when you can't do anything about it," Topolosky said. "But it's another way of being a team player. Coaching them, rooting for them and cheering them on."
The Knights got out to a quick 5-0 lead in the game's first set before the Lions finally got on the board. The Knights grew their lead to 11 points before JDS went on a 7-1 run to make the game 23-17, however, this burst proved to not be enough as the Lions lost the first set 25-19. 
The Knights came out strong to start the second set where they scored the first ten points. The Lions were not able to recover and lost by a score of 25-5. Despite being down 2-0 in a best of five game, the Lions kept their heads high and came out ready to play for the third set.
"We lost the second set by 20, and we just needed to prove to ourselves that we could compete with this team," sophomore Todd Lazoff said.
The Lions did exactly that, as the third set stayed close the whole time. A spike by junior Sammy Schreiber gave JDS their first lead of the game at 3-2. The teams went back and forth, and the Lions held their lead for a while until they were just two points away from forcing another set, with a 23-21 lead.
"Have you ever heard of the 1980 Miracle on Ice?" Coach Scott Wertlieb said. "We believe it's possible and we believe in miracles; we believe[d] we could beat them."
Unfortunately, no miracle happened for the Lions, as the Knights came back and won the set 27-25, winning the game three sets to zero. Despite the loss, the Lions are ready to put it behind them and make some noise in the playoffs.
"I think we're going into the playoffs strong anyways," Lazoff said. "This team was really good, probably the best in the league, and the way we competed with them in the third set shows that we have a great chance of getting far in the playoffs year."