Meet the Accafellas: Senior boys form a capella group
A group of eight senior boys came back from their Shabbaton with a new calling: singing in their new a cappella group, the Accafellas.
"For the longest time, we'd been thinking, 'Hey, what's a way to spice up our grade? We're kind of boring,'" Accafella member senior Arieh Fischtal said.
The Accafellas first sang at their Shabbaton lunch, according to Accafella member senior Yoni Preuss. The group came together once again to perform on the open mic set up for Daniel Pearl World Music Day. They also sang in honor of Assistant Library Media Specialist Mirele Kessous' newborn baby and senior Sabrina Bramson's birthday.
Most recently, the group sang at the extended Kabbalat Shabbat on Dec. 20. They sang a medley of "The Lion Sleeps Tonight," "Since You've Been Gone," "Sweet Caroline" and other songs complete with choreography.
"I particularly enjoyed the hand motions aspect of it, which I did not expect, but I think that it added a lot of flavor and depth to what they stand for as not exclusively an a capella group but also a source of entertainment," Shir Madness member and junior Moshe Zaremba said.
Despite their multiple performances, the Accafellas are still not recognized as an official club by the CESJDS administration, primarily because they have not gone through the steps to be such.
"They didn't ask to have a club. They asked if they could perform, and we allowed it. And, they were cute. That's it, and now they're graduating," Dean of Students Roslyn Landy said. "If there's another group that wants to have a musical group, we would certainly consider it."
The Accafellas themselves have acknowledged that they have little expertise in the realm of singing.
"It was just mainstream songs that people all know so we could all sing together. We're not amazing singers, and we know that," Preuss said. "But that makes it an even better experience because we all get into it together."
The Accafellas' Instagram biography mimics that of JDS' official a cappella group, Shir Madness. The Accafellas also blocked Shir Madness' Instagram account as a joke. This has resulted in a friendly competition between the two groups.
"I think that it might just be a gag to rip us off, but I think that it has good merit and that they're doing it to have a fun time, and it's not really getting on my nerves," Zaremba said. "And, they're making music, which I totally encourage."
The Accafellas agree: They are solely focused on having a good time.
"Honestly, this entire thing is not meant to be any disrespect to Shir Madness. We're not trying to present ourselves as great singers who are performing [as] a rival a capella group," Accafellas member Josh Siegel said. "All this is [is] eight guys in their senior year who are trying to make the most out of their last year of high school."
Currently, the Accafellas are speaking with lowerclassmen to find students who will continue the group after the Class of 2020 graduates, hoping it remains afloat once they leave the school.
This story was featured in the Volume 37, Issue 4 print edition of The Lion's Tale, published on January 16, 2020.
Leave a Comment
About the Contributor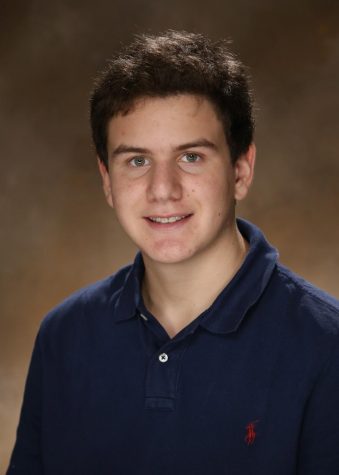 Matthew Rabinowitz, Managing Copy Editor
When Matthew Rabinowitz is not serving as the Managing and Copy Editor of The Lion's Tale, he enjoys writing and participating in various political activities, such as going to Model UN conferences and attending Junior State of America conventions. Additionally, he loves to try new foods. After being the News Editor, he hopes to ensure that the entire paper is up to the standards of reputable news organizations around the country and can provide members of the CESJDS community with relevant information as fast and efficiently as possible. His favorite part of being on the paper is the satisfaction of publishing a new article or having an article he edited published.