Last-minute preparation for school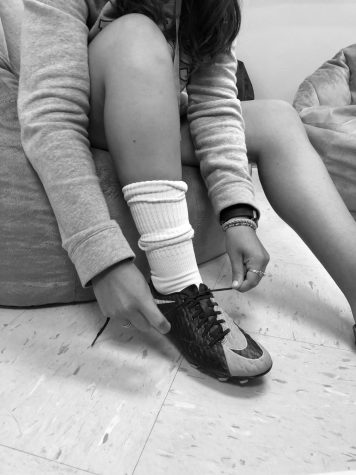 Walking down the seemingly endless aisles of Staples, junior Tess Mendelson spends time trying to find the perfect supplies for her upcoming school year. She believes that staying organized is vital for having a successful year, and that starts with your supplies.
The week before school begins, students can be found shopping for school supplies, finishing last-minute school work and trying out for fall sports. While this week may seem busy, for many, it is the last worry-free week before school and stress start up again.
Many students spend time shopping for school supplies because they want to start their year off on the right foot. Some, including Mendelson, believe school supplies have a big impact on a student's year because it gives them an aspect of control over their school lives amidst the hectic, anxious atmosphere leading up to school. Mendelson spends an average of four hours shopping for school supplies every year.
"The organizational aspect of just shopping for school supplies gets you in the proper mindset preschool starting," Mendelson said.
Students also use the last week of summer to participate in extracurriculars. Sophomore and member of the CESJDS Junior State of America (JSA) club Naomi Gould attended a convention for the nationwide club in Stamford, Connecticut from August 17 to 18. The convention was solely for people accepted into the JSA cabinet, which is the regional board. Seven JDS students, in addition to dozens of newly-chosen JSA cabinet members, attended the one-night convention to start outlining plans and goals for the year to come.
"As someone who has never been on Cabinet before, it was a little nerve-racking having to meet new people, learn new systems and jump right into the work, but by the end of the convention, I already felt comfortable with the other Cabinet members and felt ready to jump into work during the school year," Gould said.
Students also prepare for school by finishing up their summer school work. Most students pack their summer full of different activities leaving little time for school work. English teacher Melissa Fisanich thinks that if students have paced themselves throughout the course of the summer then "it's not a bad thing to have read your summer reading homework close to the start of school." This way, books stay fresh in students' minds come the school year.
Another way students prepare for school is by trying out for high school fall sports. Senior Ryan Bauman has varsity soccer tryouts and unofficial varsity basketball practices that he attends. He thinks that having tryouts before school allows him to begin readjusting to the school environment prior to the first day of school.
"The week before school is about getting into the mindset and being prepared for school, and having the tryouts helps because you get to see everyone at school and you get to see your friends [and] meet new people," Bauman said. "It's a good segway into school."
This story was featured in Volume 37, Issue 1 print edition of The Lion's Tale, published on Aug. 27, 2019.