Should Zimriyah continue to be a competition?
Below are two responses to the following prompt:
Zimriyah lets students celebrate Israel's independence through a competition; however, many believe it distracts from the purpose of Yom HaAtzmaut. Should Zimriyah continue to be a competition?
Features Editor Sabrina Bramson believes that Zimriyah should continue to be a competition, and her opinion is located on the top of the page. Guest Columnist Tali Kuperberg argues against the competition format. Her opinion is located on the bottom of the page.
Yes, it should be
Every year, I wind up being one of the classic Zimriyah choreographers who stresses until the last minute about every last detail of my grade's performance. Some might call me a "Zimzilla," but the angst leading up to one day a year ends up being worth it. In the end, seeing my grade come together as one unit is what Zimriyah is all about. 
The competitiveness of Zimriyah is what motivates me and other Zimriyah planners to push our grade to go all out and to create the hand motions and dance for our grade's performance. Without it, I worry that there would be no motivation for students to attend or participate.
The spirit and energy that brings each grade's performance alive is driven by the prospect of winning and the pride it brings. While this does take some attention away from Yom HaAtzmaut, the day's focus is brought back to Israel beautifully with a schoolwide song and dance party at the end of Zimriyah.
Part of what makes Zimriyah valuable is that it allows us to take advantage of our freedom to express our Jewish culture and pride. All students ultimately recognize that Yom HaAtzmaut is a day for Israel.
Additionally, Zimriyah is a time to come together as a grade when each grade is typically separated by different classes and various extracurricular activities. Many grades have sleepovers for the dancers the night before, allowing students to bond with their peers with whom they might not have been close previously. Similarly, the spirit that comes alive in each student on the day of Zimriyah allows them to take the celebration to heart and appreciate the other members of their grade that contribute to their grade's performance. 
Some students at CESJDS don't particularly enjoy Zimriyah, but I do not think it is because of the competitive aspect. There often winds up being brief feuding afterwards between the winning and losing grades, but not enough to put a complete end to what Zimriyah has been for the past 19 years. 
While competition may cause tension between grades, each grade comes together to try their hardest to win. Winning has become a symbol to the rest of the school that one grade is the most cohesive and spirited. The best moment of the whole year for me occurs right after Zimriyah when watching the video of the grade's performance. Seeing everyone work as one unit makes all of the hard work worth it, whether or not we win. 
No, it should not be
Too much competition and drama are taking away from what should be the Zimriyah's real purpose: to celebrate Israel's independence. Zimriyah began as a creative activity used to get students excited about Yom HaAtzmaut, but it has turned into a distraction that causes divisions between grades.
The sophomores' surprising win over the juniors during this year's competition caused a rift between the two grades that became exceedingly heated very quickly. While most of the juniors claimed to have not cared about who won, some were reasonably upset by the loss. Following Zimriyah, altercations between the grades broke out as the sophomores celebrated their win.
Varying degrees of inter-grade drama often result from Zimriyah, and it shows that the emotions of the competition inherently distract from celebrating Israel. Zimriyah is the main thing on people's minds during Yom HaAtzmaut, even for those who do not care about it. And when emotions get too high, we all need to remember that Zimriyah is just supposed to be a fun competition and we should be focused on celebrating Israel, and not on the winners of the competition. 
When Hebrew teacher Yaffa Dagony created Zimriyah in 1994, it wasn't even a competition. Students from each grade would perform a song with a very simple dance. Academic Dean Aileen Goldstein experienced the first Zimriyah as a sophomore at JDS, but when she returned to the school after college to teach, Zimriyah had changed drastically. 
"Anytime you make something a competition, there is always another element to it, that heightens it and makes it really fun and really compelling. But it's also really stressful and really hard when you are trying to have a big celebration," Goldstein said.
While the competitive side of Zimriyah may motivate some students to celebrate Yom HaAtzmaut, others take it too seriously and the day becomes all about winning, and they forget what the holiday is really about. And if they lose the competition, some students may start thinking of Zimriyah in a very negative light. 
I suggest taking away the competitive aspect of Zimriyah and rather have just a song and dance performance from each like it used to be. If the school makes this decision, it would really allow for people to remember what the day is really about, celebrating the amazing country of Israel. 
This story was featured in the Volume 35, Issue 6 print edition of The Lion's Tale, published on May 30, 2018.
Leave a Comment
About the Contributor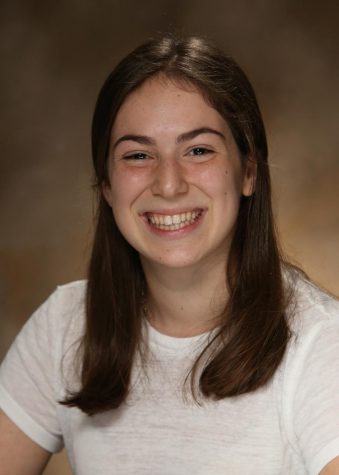 Sabrina Bramson, Editor-in-Chief
Sabrina Bramson is honored to be serving as the Editor-in-Chief for The Lion's Tale, following her time as Features Editor. In addition to The Lion's Tale, Sabrina is also Editor-in-Chief of the Melting Pot, the Spanish and Arabic literary magazine. Sabrina is very involved in BBYO and is the Vice President of Jewish Heritage, Community Service and Social Action for the Washington metropolitan area. Sabrina is also very passionate about community service and is an active volunteer for Friendship Circle as well as the Secretary of Community Service for the class of 2020. Sabrina looks forward to continuing reporting on and developing pressing stories for her community and to further explore journalism.