Right on target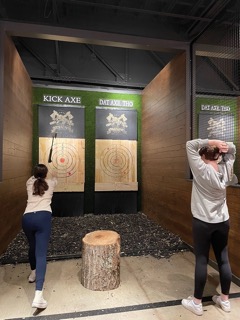 Once a leisure activity for lumberjacks, axe throwing has evolved into a fun and thrilling activity to do with family and friends. 
There are a few axe throwing places in the DMV. I visited "Kick Axe Throwing", which opened in January of 2020, in D.C., and it surpassed my expectations.  
When I first walked in, I was immediately struck by the tall stone fireplace adorned with a boar head, which gives the space a cabin-like and rustic feel. This theme carries through the whole space with the use of leather couches, animal fur rugs, plaid patterned chairs and farmhouse style light fixtures. 
Once it was time for our reservation, my group was immediately greeted by our axe throwing instructor. First, the instructor guided us through some safety tips. Then, she proceeded to teach us how axe throwing works, like the proper form for our feet and arms when throwing the axe.
Axe throwing definitely doesn't come naturally at first. 
At the beginning, I was throwing the axe down and with too little force, so it wasn't landing anywhere near the board. Even though it was frustrating, our instructor was very supportive and gave me helpful tips and the instructor stayed with us the entire time for support. 
While at first, throwing the axe felt unnatural and difficult, over time, muscle memory kicked in and it felt as simple as throwing a ball. I no longer had to look at my feet to see whether they were in the correct spot or if my axe was far enough down my back; it was instinctive. 
The rush of excitement and fear that courses through your body when you throw the axe is electrifying and hearing the "thud" of the axe hitting the target is the most rewarding feeling of all. When you go bowling or throw darts, there is no element of fear or danger involved; they don't give you the same thrill that axe throwing does. 
Once we improved at throwing the axe, there were various competitive and fun games that we could play and the competition kept us more engaged and motivated throughout our time at Kick Axe. For example, we played one game with an objective to score 10 points first and another to see who could hit every ring first. 
All of the excitement made us hungry. Fortunately, Kick Axe has a restaurant serving appetizers and tacos, as well as a bar for those over 21. The food made it a more well-rounded experience and kept us interested the whole time we were there. 
My two favorite things I tried were the "M & C bites" ($8). The macaroni and cheese bites were filled with creamy, smoky gouda cheese and perfectly cooked noodles, surrounded by a thin, crispy coating. I also found the "Big Big Pretzel" ($9) to be quite tasty. The pretzel was warm and fluffy, plus it was salted perfectly and it came with a size of spicy mustard which added a nice kick, but didn't overwhelm the taste. 
One hour of axe throwing costs $33 a person. While this may seem pricey, it is an activity that you can't replicate at your house and it is difficult to find places where you can do it. 
"Kick Axe Throwing" gives you the full experience of thrilling axe throwing, tasty food and good vibes. While at first axe throwing may seem scary, I urge you to go out of your comfort zone and try something new.