"Midnights" by Taylor Swift is Certainly Worth Losing Sleep Over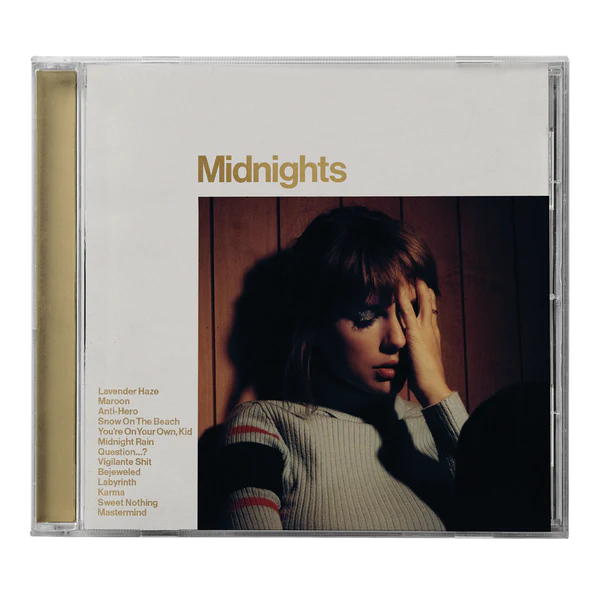 Ever since Taylor Swift announced the release of her tenth studio album, "Midnights," at the MTV Awards, fans have been looking everywhere for Easter eggs in anticipation of its release. "Midnights" certainly did not disappoint, sounding like a more mature version of Swift's hit album "1989" mixed with hints of other previous albums, such as "Folklore" and "Reputation." As Swift enters her newfound "Midnights" era, she explores her feelings of depression, longing, self-hatred and personal growth in a compelling and catchy way. 
Swift explains on her personal Instagram that the 13 tracks on "Midnights" are inspired by different restless nights she's had over the years. Her album uncovers a new level of intimacy as she dives into her inner demons, neuroses and bittersweet relationships she's felt in those sleepless nights.
The most raw song on this album is "Antihero." The song's purpose is to be a "real guided tour throughout all the things that I tend to hate about myself." "Antihero" delves into Swift's past eating disorder, intrusive thoughts and her self-sabotaging nature as she sings "One day, I'll watch as you're leaving / 'Cause you got tired of my scheming (For the last time)." Swift even goes to the extent saying she's insecure about "being the problem."
My personal favorite track on this album is "Question…?," which is rumored to be about Swift's past fling with singer Harry Styles. "Question…?" reminisces about an old relationship and wonders what could've been, while at the same time still describes having feelings for the person. "Question…?" sounds like a more mature version of "Out of the Woods," a song on "1989," and perfectly encapsulates the feeling of still being in love with an ex-partner in an addicting way.
Another standout is "Midnight Rain" which is about a boy who was "sunshine" and wanted "comfortable" whereas Swift was "midnight rain." "Midnight Rain" delves into the idea of loving someone whose path in life differs greatly from her own. This eloquent message is supported by both strong vocals and an electronic vibe. I can totally see myself blasting "Midnight Rain" in the car.  
While I loved the album as a whole, I was not a fan of "Vigilante Sh*t." My dislike of this song makes sense as it has a similar vibe to two of Swift's previous songs, "Look What You Made Me Do" and "no body no crime," which also were not really my taste. 
Near the end of the album is "Sweet Nothing," a song Swift co-wrote with her longtime boyfriend Joe Alwyn, under the pseudonym William Bowry. "Sweet Nothing" is tender, romantic and reveals the special bond the two have. Swift sings "Everyone's up to something/I found myself a-running home to your sweet nothings," meaning that her stardom leads people to manipulate her but she finds comfort and an escape from her typical life in Alwyn.
The album is cohesive, introspective and addictive, making it relatable to everyone. Swift takes listeners on a journey filled with ups and downs, making "Midnights" not one to miss.