Boys varsity baseball team beats the Field School Falcons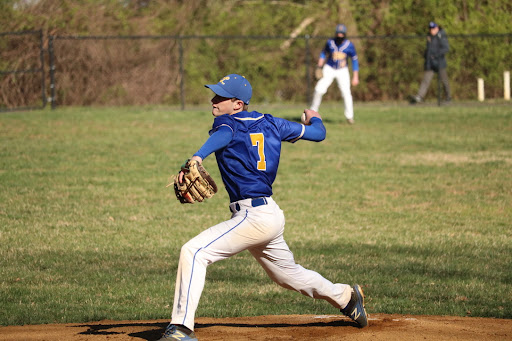 As the sun began to set over the baseball field at CESJDS and players walked off the field to greet their families, members of the varsity boys baseball team knew they had done their job after taking home an 11-1 win against the Field School. 
Head coach Brian Westerman said the Lions' game strategy was to use Field's "mishaps" against them, as well as get runs early in the game and remain consistently strong throughout the rest of it. 
Although the Lions scored two runs early on in the game, junior captain Jonah Gross was hit by a pitch in his first at bat, injuring his elbow. The crowd, as well as the coaching staff and his teammates, were anxious to see if Gross would be able to come back after what was a painful injury. 
"Luckily it wasn't my throwing elbow," Gross said. "It definitely stung pretty bad for a while but I just let the pain wear off." 
After making sure it was safe to play, Gross returned to the game and ended up being one of the team's top players by scoring three runs in seven innings of play.
By the end of the fifth inning, the Lions had put up seven runs on the board, securing their lead and clearing the path to their victory. 
Gross said that although it was only the team's second game of the season, it was evident that they were already improving.  
"We haven't had a real baseball season in a few years because of COVID-19, so this is pretty much all of our first time playing together," Gross said. "So at first, obviously we didn't play that well together, but I think we've come a long way." 
Catcher and freshman Rafi Siegel acknowledges the Lions' progress, however, he recognizes that they still have room to grow.
"I think we could have improved on some of our fundamentals," Siegel said. "We had some fielding errors that we could have improved on, but I think we can clean that up."
However, with this being just their second game, the Lions are looking forward to the rest of the season. 
"I am really excited to see us develop as a team and hopefully put up some banners at the end of the season," Siegel said.