Varsity girls basketball team pulls out victory against Berman in last minute of the game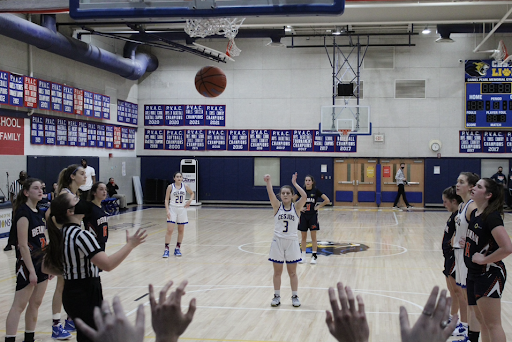 Energy buzzed through the crowd as the girls varsity basketball team (3-0) made a thrilling comeback in the second half of their game against Melvin J. Berman Hebrew Academy. The Lions defeated them 53-48.
The team had less game preparation than usual and had not faced the Berman team in two years. The players, however, did not take that as an excuse and utilized new plays and strategies. 
This was one of senior guard Avital Friedman's last games against JDS's infamous rival in which she scored the winning point and brought the team to their victory. 
"The game was exhilarating. I think we came in as the underdogs, and we had this expectation we weren't going to do so well," Friedman said. "We saw our opponents at the end of the first half and went, 'Wait a second, we're the JDS lions. We got this in the bag.'" 
The score was close throughout the first half, with multiple lead changes. Berman was winning at the end of the first half 28-19. Facing a nine-point deficit, the Lions had to step up and perform their best in order to win.
"We knew this was going to be the most skilled Berman team that we've played since I've been here," Athletic Director and girls varsity basketball coach Becky Silberman said. "But you know, in basketball, everyone does the same thing; it's just who does it better." 
Filled with adrenaline, the players stepped it up in the fourth quarter. Due to the combination of their strong defense and shot making the team regained their confidence, cutting Berman's lead to one point with 44 seconds left in the game. 
"We played pretty well in the first half, but we weren't finishing. You can't win a game without scoring points, but we never put our heads down," Silberman said. "We came, and we played strong, and we played physical." 
The girls' aggression and perseverance came to a pinnacle in the final moments of the game. Tied with twelve seconds left, Friedman drove to the basket and got fouled. Despite the contact, Friedman finished the layup. She made the first free throw and, since the foul was ruled an intentional foul, Friedman received an additional free throw and the ball remained in JDS's possession. On that offensive possession, she was fouled again and made both free throws, putting the Lions up 52-48. 
With five seconds left, sophomore guard Shani Schwartz made another foul shot, bringing the score to 53-48 and leading JDS to their victory. After the game, the team went outside to enjoy the cool air and appreciate their victory. 
"We were all unintentionally stargazing when normally we're confined in these little classrooms," Friedman said. "Being outside literally meant the sky is the limit. It was insane."