College campus quandary
As juniors begin their college search process, the pandemic hurdles that the class of 2021 faced are not fading away. With scarce in-person tours, students are once again attempting to find the right fit through online tours and information sessions.
Because virtual tours can become somewhat monotonous without the excitement of being in the midst of a college environment, it is more difficult for juniors to decide which schools to apply to.
"With virtual visits, it's really hard to get a sense of what it would actually be like to go to the school," junior Kayla Liss said. "It gets to the point where every school says the same things and it becomes hard to really learn about them because they all want to paint a good picture of themselves."
With vaccine rollout progress and COVID-19 cases continuing to drop, college counselors are hopeful that once summer arrives, traditional visits will be possible again.
"I think our current seniors especially really regret that they haven't had a chance to visit schools because that's how you really get a sense of if it fits you," Director of College Guidance Sue Rexford said. "I still firmly believe that there is nothing better than walking around a campus and absorbing the atmosphere to help you make your decision."
Rexford is hopeful of increasing opportunities for juniors in the coming months, even though many colleges are still either completely shut down or in hybrid systems.
"I'm hoping that [in-person visits will resume] because so many of the colleges are already saying they're going to be open full time in the fall," Rexford said. "But I think so much depends on what state you're in and the likelihood of a big outbreak or not."
For the few schools offering in-person tours, the benefits to juniors have been overwhelming. Junior Ellie Hasenberg felt that it was immeasurably easier to get a feel of the school environment while walking around the campus.
"I could tell the school I visited had done a lot of preparation for giving COVID tours, as they had both a general tour and a STEM tour available," Hasenberg said. "Although I wasn't able to see the inside of dorms and dining halls, I felt I truly did get to know the school, its students and its faculty."
For many juniors who are still unable to experience in-person opportunities, returning to in-person visits is something to look forward to after so many virtual events.
"It's difficult to really get a good impression of schools because every information session is really similar," junior Naomi Gould said. "I think it's contributed to me just feeling a little lost when it comes to picking what schools to apply to and figuring out where I'd like to go."
The upside to college marketing through virtual tours is that students may be able to explore more colleges than they were able to before when taking time to travel to a college was the only option. For students interested in institutions farther away from home, this can be especially beneficial. Yet even with this opportunity, Rexford is worried that it is too easy to procrastinate with virtual visits.
"I think this may lead to a change in how colleges assess what is the best way for them to reach students, but I don't know how many students are taking advantage of the virtual tours, so it's very complicated," Rexford said.
With these changes to the college search process, maintaining a positive attitude and having minimum stress is even more vital than ever.
"This is a complicated process to go through, but you don't want it to be a stressor, you want it to be a growth experience," Rexford said. "This is a time where you can learn about who you are, what you want and what you're interested in, so if you look at it that way, I think it can become less stressful."
About the Writer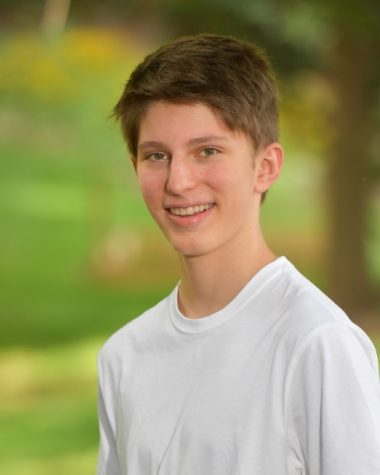 Ivan Endelman, Features Editor
Ivan Endelman is looking forward to another exciting year on the staff of Lion's Tale. He was a reporter and Sports Editor over the last two years and is now looking forward to his third year as Features Editor. Outside of Lion's Tale, Ivan is a member of the debate club and the co-vice president of his Junior States of America chapter. He also enjoys playing the violin and participating in a youth orchestra. Ivan's favorite part of Lion's Tale is being able to write about events and issues that affect the CESJDS community but is also excited to be a student journalist during such a captivating period in our nation's history. He is thrilled to be on the staff again, and can't wait to see what this new year has in store for us.