Faculty book club allows a new opportunity for teachers to socialize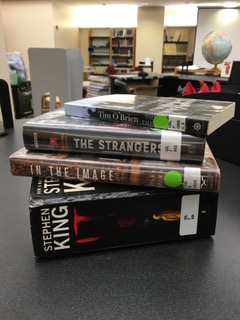 The faculty book club brings a variety of teachers together through a shared love of reading. The club, running once every six weeks, encourages reading for teachers and offers them a chance to socialize in an out-of-school setting.
Media Center Specialist Cheryl Fox Strausberg is the de-facto leader of the club and began it at the end of last school year.
"Ms. Wassner and I were talking about starting a book club because there was not much to do, and no one was really going anywhere," Strausberg said. "So we started the faculty book club in the summer and we have had seven meetings since the end of last school year."
The club reads fiction books suggested by members and then meets to discuss them together. Books that have been read include The Vanishing Half by Brit Bennett, The Glass Hotel by Emily St. John Mandel, Homegoing by Yaa Gyasi, Daisy Jones and The Six by Taylor Jenkins Reid, and many more.
History teacher Natalie Levitan is a new member but plans on continuing to attend because it has encouraged her to read more.
"I haven't taken a lot of time to do a lot of personal reading because I feel like I read so much in my job anyway," Levitan said. "It's really been a nice opportunity and I've read the last two books and I've definitely read more because of the club."
Humanities teacher Tamar Gasko is a regular attendee of the club and says that the social aspect is very enjoyable for her.
"I go because it's fun and it's nice to laugh and be social with my colleagues outside of work. Especially during COVID-19 there aren't a lot of chances to socialize so I don't get to see my high school colleagues and there is no hanging out in the back office," Gasko said. "So this is a really nice way to hang out and bond and talk about things we love outside of school."
Gasko and Levitan both recommend the club to any faculty members considering joining.
"We've had a lot of people trickling in as they hear about it or joining for one and leaving. They can come and go as they want, but people seem to really enjoy it," Gasko said. "And I would love to see more of my colleagues out of school. So people should definitely join."
Strausberg says that she did not expect the club to continue after the summer but was surprised by the members' enthusiasm and desire to continue.
"I'll keep doing it as long as people keep wanting to do it. I'm surprised it has lasted this long especially as people got busy with school and work," Strausberg said. "But I'm thrilled that everyone wants to keep reading. And we get to read lots of different diverse books that we would not have read otherwise so that's good too."