Opinion: Hogan must stop vetoing crucial police reform
After the murder of George Floyd and protests around the country, Marylands General Assembly passed a package of legislation aimed at police reform earlier this month. Yet, instead of smoothly transitioning into law, three bills were vetoed by Government Larry Hogan. While Hogan's vetoes have since been overridden by the democrat-controlled house and senate, his decision and reasoning behind vetoing these bills raise major concerns. 
Hogan's three vetoes were exercised on Senate Bill 71, Senate Bill 178, and House Bill 670. These three bills force the use of body-worn cameras in certain Maryland agencies, make police disciplinary records and complaints against officers available to the public, eradicate our State's Law Enforcement Officers' Bill of Rights and replace it with a new "use-of-force" policy. 
Our state's former Law Enforcement Officers' Bill of Rights was a document that gave special rights to police officers under investigation, often decimating the possibility of a conviction when certain evidence was unattainable. Maryland's "use-of-force" bill specifies when it is acceptable for an officer to use force and the right of law-abiding Marylanders to film a police encounter. 
These changes appear to show a focus on increasing confidence, transparency and integrity in Maryland's police force. Yet Hogan's response was almost entirely contradictory to the bills' substance. In his response, Hogan said, "these bills would undermine the goal that I believe we share of building transparent, accountable and effective law enforcement institutions". 
It is hard to imagine how body-cams, a "use-of-force" policy and a public record of wrongdoing allegations would lead to less efficient policing. What these policy changes do achieve is a safer and more reliable force that helps underserved communities in our area. As for Hogan's claim that this would undermine the transparency and accountability of the police force, all the evidence and substance in the bills suggest otherwise. 
If Maryland was a state that had no need for police reform, Hogan's decision would be more understandable. However, Maryland's policing system is currently far from perfect. Not only were there serious problems exposed in Baltimore's policing system after the death of Freddy Gray but just this month, an off-duty officer for the Pentagon gunned down two unarmed men who he believed were stealing a car in Takoma Park. 
None of this is to say Maryland's entire police force is reflective of a few individuals' heinous actions. The vast majority of our states' officers are well-intentioned and good at their jobs. But violent instances like Gray's murder do show that SB71, SB178 and HB 670 are necessary to some extent. 
In fact, recent shootings where body-cam footage was suppressed from the public and the victim's family suggest that these bills could be vital in future cases of police violence. 
Since deciding to run against Trump in 2020, Hogan's actions have been precise and calculated. Voting for Ronald Reagan in the presidential election, taking the lead on Marylands' vaccination effort and lightly criticizing Biden's infrastructure plan are all examples of the governor attempting to play his cards right in preparation for the next presidential race.
But walking the tightrope of moderate conservatism in America's polarized reality is a difficult task, and with these recent vetoes, it appears that our Governor is beginning to embrace Trump-era conservatives at the expense of supporting desperately needed reform and the safety of his black constituents. 
About the Writer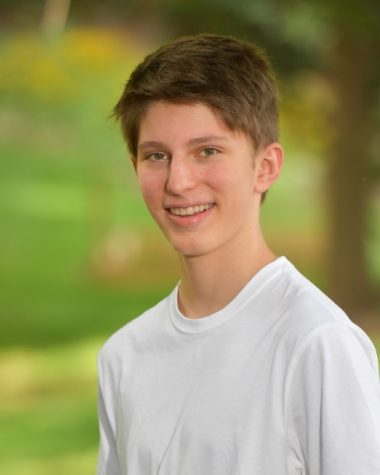 Ivan Endelman, Features Editor
Ivan Endelman is looking forward to another exciting year on the staff of Lion's Tale. He was a reporter and Sports Editor over the last two years and is now looking forward to his third year as Features Editor. Outside of Lion's Tale, Ivan is a member of the debate club and the co-vice president of his Junior States of America chapter. He also enjoys playing the violin and participating in a youth orchestra. Ivan's favorite part of Lion's Tale is being able to write about events and issues that affect the CESJDS community but is also excited to be a student journalist during such a captivating period in our nation's history. He is thrilled to be on the staff again, and can't wait to see what this new year has in store for us.