Bagel bus: An iconic D.C. Jew-ish deli parked itself in Bethesda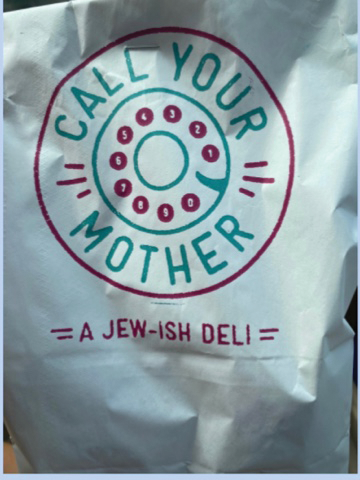 Call Your Mother is a new food truck that is parked across the street from the National Institute of Health in Bethesda, Maryland. The trolley painted in bright pinks and blues, with a crowd surrounding it, can can be easily spotted. The "Jew-ish deli," native to Washington, D.C., brought its iconic bagels to Montgomery County in late June.
Call Your Mother is most well known for its unique bagel sandwiches, each freshly made and loaded with toppings. They include a variety of savory and sweet combos such as peanut butter jelly and granola, whitefish bagel, or one that closely resembles cheesecake and is loaded with graham cracker cream cheese. The truck also sells bagels in bulk, an array of cream cheese flavors such as herb and candied salmon, desserts, whitefish and lox.
Not only does the deli-style food take me back to my Jewish roots, but the name of the restaurant does as well. Jewish moms are often known for nagging, and the food that you will be eating at this restaurant serves as a reminder to call her.
Although the truck is called a "Jew-ish deli," two of their bagel sandwiches are not kosher. None of their food is fit to serve those who observe kashrut because many of their menu items include bacon or combine meat and cheese.
Upon arrival, there was plenty of parking available next to the food truck; however, it gets pretty crowded during lunch hours, so the spots fill up. Although it was busy, the line at the food truck was very short because most customers place online orders. I did not use this feature and decided to order when I got there.
I ordered an everything bagel and the Royal Palm sandwich which was the only bagel sandwich they had left in stock. The worker at the food truck was very friendly and efficient. The food came warm and toasty within five minutes, packaged in a white paper bag.
The everything bagel toasted with cream cheese was delicious, chewy and crunchy. The Royal Palm sandwich, which was stuffed with cream cheese, lox, cucumber and tomatoes, was just as good. It came with the perfect amount of everything seasoning and cream cheese.
At the Bethesda location, there are two picnic tables, as well as one table that seats two people. While the seating is comfortable, the scorching summer heat and humidity make it less pleasant, so I would recommend that you bring your food home for a more enjoyable experience.
I would also recommend going earlier in the morning because by lunch hour almost all of the sandwiches were out of stock. The food truck's inventory is limited because the bagels are shipped from their two locations in the District, so I would not recommend ordering for large events.
Call Your Mother is one of the best bagel places I have been to. If you consider yourself a bagel lover, this is a truck worth trying.