JDS selects new high school principal for coming school year
Head of School Rabbi Mitch Malkus announced Monday that Dr. Lisa Vardi will be the next high school principal starting July 1. Vardi was chosen out of three finalists after months of community discussions, board meetings and High School Principal Search Committee meetings. 
"Her appointment represents a wonderful return to our school community as she is a former CESJDS parent who embraces our mission of engaging students in an excellent and inspiring general and Jewish studies education grounded in a commitment to Jewish values, the Jewish people and love of Israel," Malkus wrote. "Her knowledge of our community will serve as an asset in her work with students, faculty and families."
Currently, Vardi works as Director of Teaching and Learning at the Bullis School, where she teaches Advanced Placement Comparative Government and a Holocaust and genocide elective. She previously worked at Sherwood High School in Sandy Spring, Maryland, Leo Baeck Junior High School in Haifa, Israel, AT&T and the U.S. Department of Commerce.
"Dr. Vardi's teaching and learning credentials and her experienced areas really are very strong," Dean of Academics and Search Committee member Aileen Goldstein said. "… I was intrigued to hear her story on Haifa and her experience there, and I'm excited to see where she will take us."
Vardi, whose children attended JDS until different grade levels, is looking forward to returning to a school community with values that align with her own. 
"It just seemed like a perfect fit in terms of getting through the values of integrity, transparency, living into your values, … and making a difference," Vardi said. "Tikkun olam, kehillah, those values that the idea of Jewish pluralism and allowing for lots of different voices to be heard was something that was extremely appealing to me. I have [a] connection with the community."
Junior Mira Beinart, who attended Vardi's candidacy forum for students, hopes that Vardi will work to form connections with students.
"I really was looking for someone who I could form a relationship with," Beinart said. "Obviously I'm leaving next year because I'm a junior, but just being able to form relationships because that's one of the best things about JDS, that the community is so tight. I have relationships with all of my teachers."
Fortunately for Beinart, Vardi will focus on integrating into the JDS community next school year.
"I would say my first and foremost goal is to really get to know the community and all of these different groups … well, and so that means being visible and doing a lot of walking around and a lot of talking, so not sitting in an office or behind a desk but really getting to know students and faculty," Vardi said. 
The transition of Dean of Students Roslyn Landy's role as interim high school principal to Vardi's role as principal will be just as important as integrating into the community, according to Goldstein.
"I think it's not just about [transitioning from] Mrs. Landy, but a whole team of people will have to help transition because there's [learning] a job, but there's also all the pieces to learning the CESJDS community," Goldstein said.
In addition to Vardi's well-rounded professional experience and community goals, she brings a plethora of educational degrees to JDS, including a Doctorate of Education from Vanderbilt University that she completed last spring. Vardi was encouraged to pursue her doctorate and form a deeper connection with the Jewish community after an unexpected life event four years ago caused her to reevaluate herself on a professional and personal level. 
As part of her doctorate's capstone experience, Vardi and a colleague researched the recruitment and retention of teachers of color in independent schools, a current focus for JDS (as reported in "Curriculum Construction: Administration plans to modify courses to amplify diversity," The Lion's Tale Volume 38, Issue 2).
"It's important that students are exposed to various viewpoints but [that they] also really get to know who they are as individuals and their own identities. So it's really kind of informed my thinking about the importance of looking at that lens of diversity, equity and inclusion in your curriculum, in your faculty [and] in the kind of experiences you give to kids," Vardi said.
Goldstein looks forward to working with someone so dedicated to communal inclusivity and social progress. 
"[I like] the idea of the value of integrity and change together, if she can bring both of those together," Goldstein said. "I'm also really excited about this idea of saying, 'How can we continue to find opportunities for our community and put them into action?"
As Vardi transitions to JDS, search committee member and English teacher Nancy Wassner believes Vardi's extensive educational and teaching experience will enable her to work more effectively with faculty members.
"One of the things that's important to me is that it really matters to me that our principal had a deep background in education and a lot of experience in a classroom. I really think that that is something that makes a good principal," Wassner said. "… I think she [Vardi] really has that depth of experience [because] she's taught her entire career, and she's still teaching. Even though she's a very high-level administrator, she still teaches at Bullis."
Vardi is also excited to work at a school that values experiential learning, particularly in the form of the Irene and Daniel Simpkins Senior Capstone Trip. When she was the Global Studies and Service Director at Bullis, for example, Vardi was responsible for coordinating student trips abroad.
"The opportunity to really send kids [abroad] and be a part of an institution that understands how important that experiential component is for students is so appealing to me," Vardi said.
About the Contributors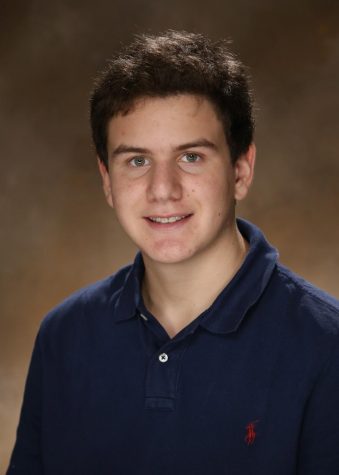 Matthew Rabinowitz, Managing Copy Editor
When Matthew Rabinowitz is not serving as the Managing and Copy Editor of The Lion's Tale, he enjoys writing and participating in various political activities, such as going to Model UN conferences and attending Junior State of America conventions. Additionally, he loves to try new foods. After being the News Editor, he hopes to ensure that the entire paper is up to the standards of reputable news organizations around the country and can provide members of the CESJDS community with relevant information as fast and efficiently as possible. His favorite part of being on the paper is the satisfaction of publishing a new article or having an article he edited published.
Aaron Gallo, Sports Editor
I am super excited to be the Sports Editor for the upcoming year! Sports is something that everyone can enjoy whether you participate in a sport, watch one, debate them, read news about sports, or even playing a sport video game. I'm so excited to work with all of our staff members. Aside from Lion's Tale, I am the Assistant Art & Design Editor for the Bohr Franklin Science Journal, member of the Engineering Club, Mock Trial, Business Club, Track Team, and teach a Video Editing class to younger students. I hope to bring sports topics that everyone can enjoy this year.