A first look into the high school musical: Broadway Unmasked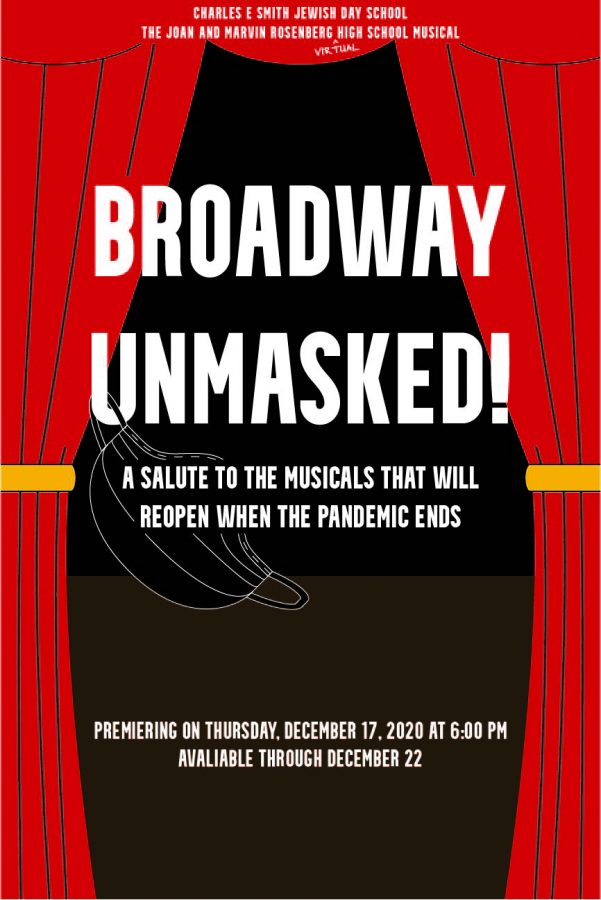 The stage is empty for the CESJDS high school musical this year, but the show must go on. The musical will be online and pre-recorded — a new experience for the cast and crew.
Due to the pandemic, it is currently unsafe for JDS to have a musical on stage with an audience, but Director of Arts Education Dr. David Solomon still wanted to have one.
"When we were figuring out what we were going to do for our musical, there were limited options," Solomon said. "But I've always told students that limitations breed creativity."
Along with vocal music teacher Aaron Dunn, Solomon decided to choose one song from every Broadway show that will reopen after the pandemic, and called it "Broadway Unmasked." They wanted to make the musical unique and put a lot of thought into the songs they selected.
"We chose the songs to try to get a mix of different song styles, and we didn't necessarily choose the most famous song from a show," Solomon said. "We're also not necessarily recreating the show, we're going to put our own spin on each song."
To prepare, each actor records their audio individually to send to editors for compilation. Then, the actors take videos of themselves for the editors to make into a music video with the audio.
Compiling videos is a significant change from what the actors are used to. Every rehearsal is over Zoom, performances are not live and actors have to undergo a complicated video process.
"I was really nervous at first to do a play virtually, but I'm now really excited," junior Elyon Topolosky said. "It's a new experience and challenging, and the technology is a lot more difficult than I expected, but it's all for the better."
Topolosky went through the recording process with a song from the musical "Company." This song was especially difficult to learn due to its fast lyrics, and he was already at a disadvantage having to learn over Zoom. He spent over an hour recording the audio and spent even more time filming the video.
"I took 26 videos from different angles of my scene," Topolosky said. "I spent eight hours on a Sunday preparing, [and] I got some of my family involved in the videotaping."
The stage managers and crew similarly had to adjust for this new kind of production. Their job is now to organize documents, arrange sound files and send out instructions to the actors. They also help with the editing process.
Usually, costumes are provided by the school in order to enhance the storytelling aspect of the musical. Since the musical is completely virtual, it was imperative to think of a new way to add background and bring the songs to life.
"Costumes are just going to be provided by the people wearing them … nothing too extravagant," co-stage manager junior Adina Schwartz said. "There isn't really a set, but there's going to be different settings … different shots in different places."
Despite these changes, Schwartz thinks that the musical continues to be a good opportunity for people to express themselves and have fun.
"It's definitely a completely different thing than what we would usually do with the musical," Schwartz said. "But I think it still allows the actors to showcase their talent, and there's still a lot for stage managers to do."
The "Broadway Unmasked" musical will be available on YouTube for a limited time starting December 17.