Teachers offer educational extensions through video chats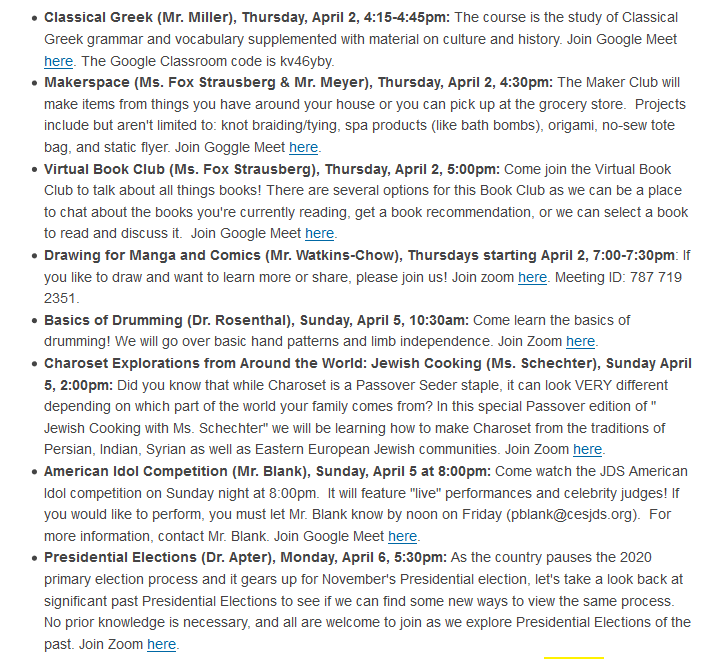 In an effort to maintain a sense of connection with the CESJDS community amidst the coronavirus pandemic, JDS teachers have offered their unique skills in the form of online extension opportunities. 
These classes range from one-time American Idol singing programs to recurring Evening Philosophizing classes. The goal of these classes is to make up for the lack of extracurricular clubs students usually take part in. 
"Our goal is to have them running as long as we are not in the school building," High School Principal and Associate Head of School Dr. Marc Lindner said. "You may have noticed that some of them are just offered once, but others might be recurring things, so not everything on the original list will necessarily continue. As an overall effort, we absolutely plan to continue it."
While many of the classes featured are light and fun, such as Drawing for Manga and Comics taught by math teacher John Watkins-Chow, other classes allow students to expand their knowledge. Science teacher Nick Miller teaches the Classical Greek extension class, which allows students to learn the Greek alphabet as well as Greek history. Classes such as these provide students the opportunity to gain more unique experiences that are not necessarily offered as academic courses. 
"I'm not massively powerful, and I can't do everything, but within the realm of what I can do, I will do. And so I offer Greek as an extension because I think it is incredibly important," Miller said.
Online extension classes come with new challenges, such as how to create a collaborative and open environment. However, seventh-grader Abby Chesman, who partook in the American Idol program, was pleased with the result. 
"I thought it would be very complicated because everyone would always be talking, but everyone was really good at muting themselves, and it was really nice to see all of the support in the chat section," Chesman said.
Due to positive responses to the extensions, teachers are hopeful that students will take advantage of the increased free time they now have, as well as the opportunity to connect with peers and teachers. 
"I am really interested to see and hear how the different offerings are going, what the participation is like in each offering, and I am glad that the reception to this has been really good and positive and strong," Lindner said. "If this is going to help students get through what's a really difficult time, then it will make it all worth it."