Your guide to choosing a last-minute Purim costume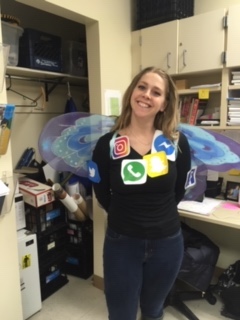 Purim is just a few days away, so students who are stuck for original, trendy and yet affordable costumes may want to take inspiration from last year's celebration. 
Middle School English teacher Naomi Allemann thinks that group costumes are really fun and are a recurring trend. Last year, the English Department dressed as idioms. 
"I was a social butterfly, so I took butterfly wings from the costume department, and then I had different social media icons," Allemann said. "Mrs. Yitzhaky was a smart cookie, so she dressed up like a cookie with a graduation cap. Ms. Rosenstein was when pigs fly, so she has a pig hat, and she put wings on it."
While the English department was cohesive with its group costume, some groups struggled to come up with an idea. Eighth-grader Zoe Epstein said she had complications trying to organize a group costume everyone agreed on. After a month of changing plans, her friends decided to dress up as clouds. 
"It was very difficult because everyone was disagreeing," Epstein said.
Junior Ainsley Lerner does not know what she is doing for Purim this year but said she usually finds a way to pull off an easy last-minute costume. In the past, Lerner and her friends dressed up as different colleges, wearing college sweatshirts they already owned. 
"I never really put so much effort into what I wear; I just sort of wear what is fun and what my friends are wearing," Lerner said. "Fun, easy costumes are sort of what I like." 
An easy way to come up with a last-minute costume is to borrow something from friends, wear something from your own closet or find resources at school.
"I borrowed the wings from the costume closet, and then I just printed out the pictures at school," Allemann said. 
Popular costume trends are animals, tourists, lifeguards and schoolgirls. Some groups do clever things like puns. 
For a very simple costume, freshman Noam Cohen said it is always safe to stick with a simple basketball jersey.  
"I'm probably just gonna wear a basketball jersey for Purim," Cohen said. "… I'm guessing in my grade [there] will be a lot of jerseys … but then Middle School will probably be military and all the fun stuff." 
To Lerner, it is also important to consider comfort when planning a Purim costume. 
"I don't like onesies because I feel like you just get so hot in them, and it's just a lot of work," Lerner said. "As long as you're having fun, whatever, but personally I wouldn't wear stuff like that."
Although finding a Purim costume that everyone agrees on can be difficult and time-consuming, it often pays off in the end.
"Overall, all the fighting was worth it because we have a cute costume in the end and it's really great," Epstein said.