Lions fall to Covenant Life in first game of season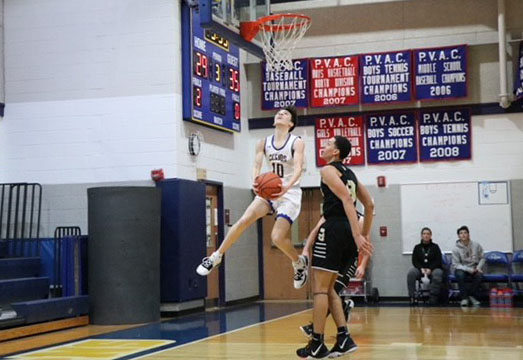 The Lions suffered their first loss of the season to Covenant Life, 69-59. The team entered Tuesday's game with high hopes and expectations, lead by juniors Ariel Gershman, Tyler Farkas and Jake Rulnick, but stifling defense and fouls eventually gave Covenant Life the edge. 
The Lions stormed out to a five-point lead by the end of the first quarter, led by Junior Tyler Farkas with eight points in the quarter. Farkas and senior Zack Gross were the only players to score in the first quarter, but strong defense for the Lions and shots from both Farkas and Gross allowed the Lions to maintain their lead at the end of the first quarter.
For the rest of the game, senior and future Division I commit Garfield Turner broke out for 40 points, and got his teammates involved to pull ahead 29-27 after the half to maintain the lead for the rest of the game. 
Junior Ariel Gershman, who had 23 points and kept the Lions in the game throughout the first half, believed costly mistakes on defense allowed Covenant Life's Turner to break out. 
"They were forcing the ball inside to their big man, and we didn't cut the ball off enough. We gave him open opportunities to kick it out or get the easy layup," Gershman said.
Although a season opener loss was evidently frustrating for the team, Coach David McCloud believes that with improvement on their offense and more experience, the Lions can overcome this defeat to have a successful season. 
"I think that withstanding the great play of number thirteen, we played even with them until the very end," McCloud said. We are definitely going to improve on our offensive sets though, to get the ball where we want."