Middle school students view performance from Klezmer band
Klezmer musician Noah Guthman stood in front of a group of students in the Beit Midrash and introduced Klezmer music to an attentive audience.
"Have you ever been to a really crazy Jewish wedding where everybody is running around and dancing their heads off," Guthman asked? "Then you might have heard something that sounds like what we're going to play for you today."
In celebration of Daniel Pearl World Music Day on Oct. 28, a Klezmer band performed in the Beit Midrash from 9 a.m. to 12 p.m.  Klezmer music is Eastern European Jewish music, which originated in Ukraine, Turkey, Russia, Hungary, Poland and other countries. 
Four musicians performed in the Klezmer band on Tuesday. Guthman, who is also the technical director for the CESJDS theater program, played the saxophone, and the other musicians played the guitar, violin, drums and trumpet.
Guthman said his favorite part of being a Klezmer musician is "getting to go to other peoples' parties, other simchas … and making everybody have a reason to get up and dance … It's nice to be able to contribute to the overall happiness of an event. " 
The students weren't shy about getting into the music; they clapped to the beat, cheered, and some even got up and started dancing. At one point the students, teachers, and musicians started dancing the hora while filling the room with joy and excitement. 
"We're trying to have a party in here!" Guthman said.
Freshman Benjamin Weiss enjoyed the program but also said he found a deeper connection to the music. 
"I have Eastern European roots, and it was so interesting to see parts of the culture of my family that I don't get to see when I'm here in America," Weiss said. "I have never seen that type of music before."
Leave a Comment
About the Contributors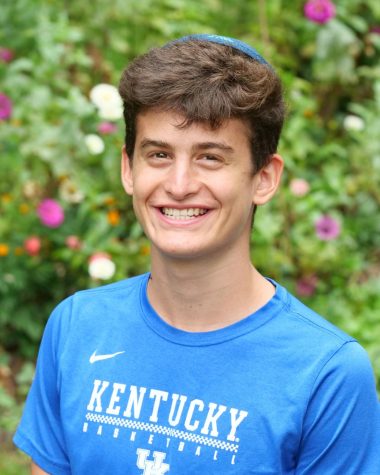 Matan Silverberg, Managing Editor, Copy
Former sports editor Matan Silverberg is very excited to serve as a Managing Copy Editor for the Lion's Tale this year. Writing is one of Matan's biggest passions, and he enjoys the challenging yet satisfying process of restructuring and editing articles. When he is not editing articles, one might find Matan jogging through Rock Creek Park with his dad, playing basketball with his little brother, or perfecting his ice skating at the local rink. Matan looks forward to working hard with his co-executives and other staff members to make the Lion's Tale the best place that it can be.