Trendy Hydro Flasks are not for everyone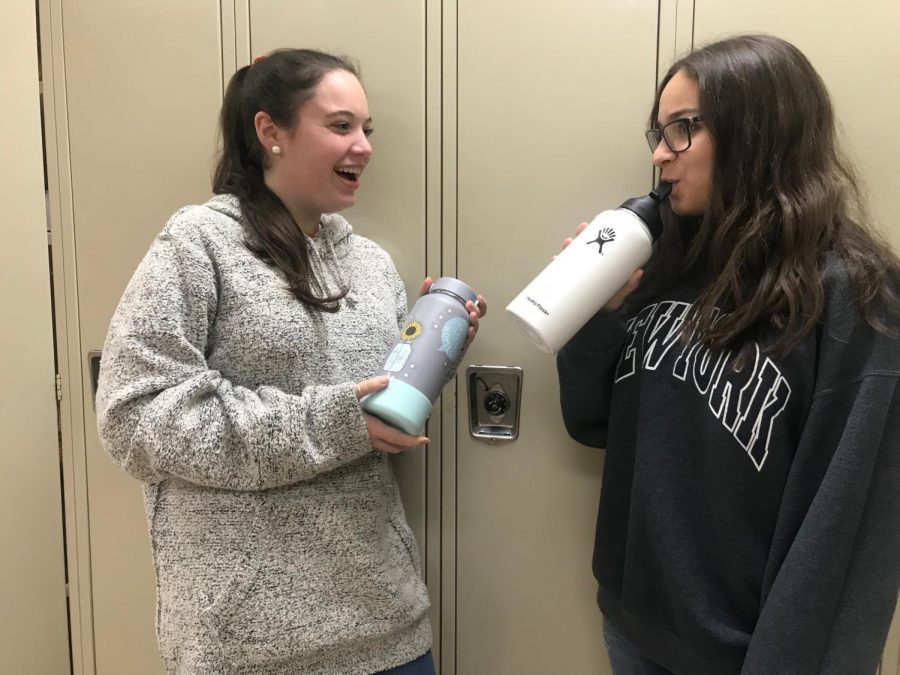 On her way out of the door each morning, senior Emily Cohen takes a moment to decide which of her five Hydroflask water bottles she would like to fill and take to school. She chooses her favorite bottle: teal colored with a pink lid. 
The reusable steel water bottle brand has grown in popularity at CESJDS over the past few years. In 2017, S'well brand bottles emerged as the "it" item to own at the Upper School, particularly among female students. Just two years later, however, Hydroflasks vastly outnumber all other water bottle brands. 
"The S'well shape didn't work well with my lifestyle," Cohen said. "I got a Hydroflask because I saw it online, and I liked it better." 
With a standard 32-ounce bottle priced at $40, Hydroflasks are more than double the cost of a Camelbak bottle, a popular brand that specializes in reusable plastic water bottles. However, Cohen believes the quality of the Hydroflask justifies its price. 
"If you're someone who drinks water a lot it's definitely worth it," Cohen said. "It keeps my water colder than other water bottles." 
Ceramics teacher Gretchen Gobin was gifted a Hydroflask three years ago, but says that she would not purchase another if given the opportunity.
"It's pretty indestructible," Gobin said. "But I can refill an Evian bottle and not spend 50 dollars."
Hydroflasks have become a popular culture icon that many associate with "basic VSCO Girls." According to Urban Dictionary, a VSCO Girl "Wears oversized t-shirts or sweatshirt with Nike shorts. Has Vans, Crocs, Birks, and wears a shell necklace. She also wears tube tops and Jean shorts. She always has a Hydroflask. She can't leave home without a scrunchie and her favorite car is a jeep." These stereotypes have grown to describe a girl who is caucasian, affluent, shallow and vapid. 
The pressure to join in on the trend along with the negative connotations of VSCO Girls discouraged senior Emma Ash from purchasing a Hydroflask. While she appreciates the high quality materials used and the opportunity to decorate a bottle with stickers, Ash prefers to market herself as "edgy."
"They're pretty cool and they have nice colors," Ash said. "Now that's it's so mainstream, it's just not worth it… you're conforming to everyone."
No matter the style of water bottle someone chooses to use, Cohen praises JDS students for limiting their plastic consumption, which she ultimately believes will benefit the environment. 
"I'm really into the reusable water bottle life," Cohen said. "I got one before it became a trend, and I hope more people continue to use them."