Artist expresses vision on canvas and through camera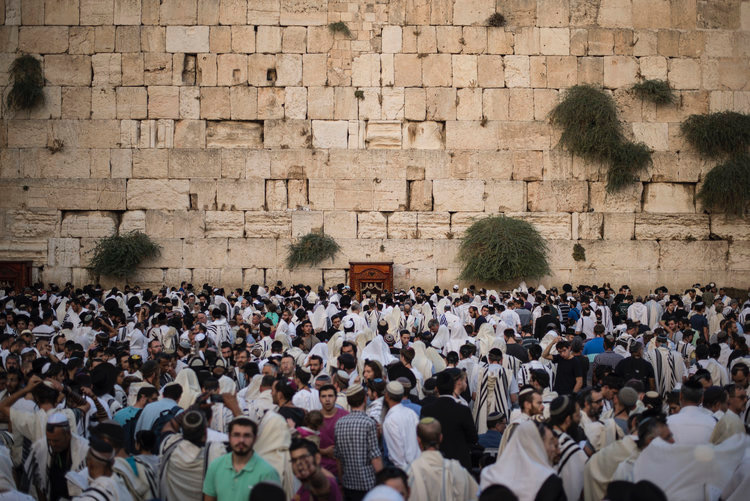 Hailey Block, Reporter
May 22, 2019
When junior Boaz Schwartz found out he was among the 30 finalists in the National Geographic magazine teen contest, he called his mom to tell her the news. Schwartz's anticipation grew as officials directing the contest looked thoroughly at each finalist's submission, narrowing the list down to the bone.
Schwartz was one of 1,000 contestants in the photography competition that took place in late February. He entered a photo of the Western Wall in Jerusalem taken during his family trip to Israel, a shot filled with dozens of people praying at the holy site.
"There was just so much going on, and I was able to capture a moment of chaos in a way," Schwartz said.
He receives professional guidance from a photographer outside of CESJDS. She was the one who told him to enter the contest and looked at his portfolio of work.
"My mom started telling everybody," Schwartz said. "I wasn't the one telling people, but then Mrs. Landy [Dean of Students] sent an email about it."
Though Schwartz did not end up winning the grand prize, a pre-paid trip to Tokyo, Tanzania and other international destinations, he was happy with the experience, particularly gaining the pride of his family and school community.
Schwartz became interested in photography at a young age, particularly street art and portraiture. Schwartz started devoting time to photography and painting when he was in sixth grade after he got hurt and could no longer play sports. Schwartz mainly focuses on travel photography for many reasons.
"It is a really good way to interact with people and learn more about people and peoples cultures and so I am able to do that through my pictures," Schwartz said.
As of taking professional photos in the future, Schwartz is interested in delving into the realm of arts and photography professionally. He plans to pursue art and photography in college.
"I plan on going to art school in New York and I would like to sell my painting at some point in my life and also be able to travel the world taking pictures," Schwartz said.
Though Schwartz has not taken a class with the new JDS photography teacher Debra Dilworth, he has asked her for advice on his work. Dilworth said that Schwartz has natural talent.
"I looked at his [Schwartz's] work and I was blown away," Dilworth said, noting that she was particularly impressed by his street photography, which has a documentary quality to it. "He's not afraid to confront a stranger."
After hearing that Schwartz had entered the National Geographic Teen contest, Dilworth "was just so happy." Dilworth plans to direct Schwartz to new photo contests so he can further his experience in the art world.
"Whether he becomes a professional photographer or not, it's probably up to him, but he has the skills," Dilworth said. "But the field is fast and competitive."
Along with photography, Schwartz also enjoys painting. About a year ago, he started to learn how to draw the human face and, as a result, became more interested in painting. Schwartz has learned that he is able to use his skills from photography and apply them to painting.
"With photography, it is travel and that is an aspect that I really enjoy; and for painting, I have two arts during the day. It is really relaxing and decompressing," Schwartz said. "I am also able to use what I know from photography like composition, color and stuff like that and they go hand and hand."
Schwartz likes to use his summers to hone his photography skills. Last year, he traveled with two friends to Africa, where he took many photos. In two summers, Schwartz and a group of his close friends will be traveling around Europe for close to three weeks. They will start in Amsterdam, then travel through southern France and Italy, ultimately ending their trip in Greece. Schwartz will use the trip as an opportunity to continue practicing his craft.
"I'm gonna going to take pictures there," Schwartz said. "Hopefully those pictures I'll use for my portfolio. Stay tuned to see the pictures from our trip."