Lions blowout Knights in final game of regular season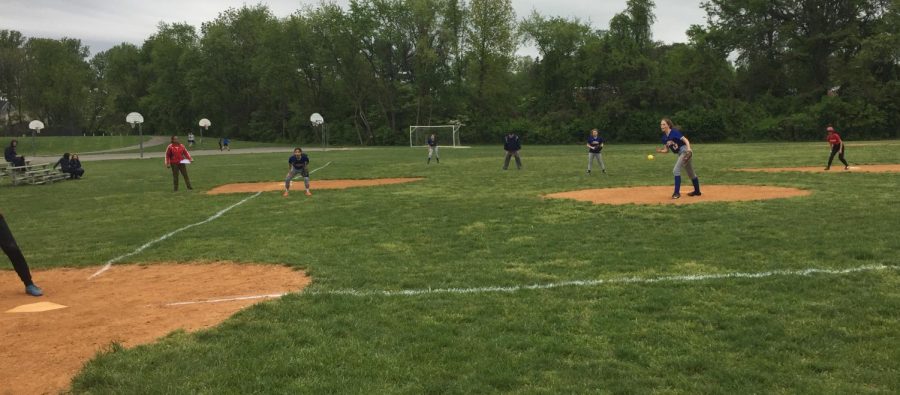 Mira Beinart, Guest Writer
April 30, 2019
The girls varsity softball team easily defeated the Washington Waldorf Knights on Monday, finishing with a final score of 22-1. This was the last regular season game, and the Lions will most likely end up as the second seed for the PVAC playoffs with a record of 6-1-1.
The Lions' strong hitting resulted in the first inning ending with the Lions on top with a score of 12-0. Freshman Dalia Hochstein scored the first run when she walked home. During the second inning, sophomore Sophia Miller hit two home runs, and her teammates helped expand the already large lead.
At the end of the third inning, the game was over due to the mercy rule which states that if one team is winning by at least 15 runs by the end of the third inning, that team wins the game. In this case, the Lions won because they were ahead by 21 runs.
English department chair and team coach Tom Worden said that although this game was particularly easy to win for the Lions, the future brings more challenging games, and teams, with it. Worden said that in order to prepare for the playoffs, he will focus practices on skills that the team needs to apply more work to, such as base running and outfielding.
"From here on out, it's going to be more competitive," Worden said. "We're going to play teams that are … equally matched to us, if not better than us, so it's going to be very different. We're going to do more work with trying to practice bunting, bunt defense, base running, and outfielding."
Sophomore and team captain Jane Trainor was proud that her teammates were able to win yet another game this season.
"[The game] went really well because even though we didn't we have our star pitcher, our pitcher [sophomore Sasha Trainor] did really well," Trainor said. " I'm very proud of my team."