"Thank U, Next:" When albums empower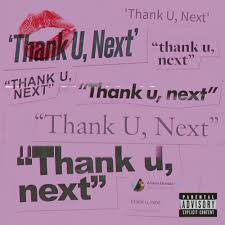 Ariana Grande's newest album sends a message of newfound independence after a year of internationally-publicized personal hardship. Released on Feb. 8, the album marks a new beginning for the pop star's unique musical sound and individual growth.
Grande's announcement of her newest project, "Thank U, Next," came as a surprise to many, as she released her long-awaited album "Sweetener" just five months prior. One month after "Sweetener" was released, Mac Miller, Grande's ex-boyfriend, passed away from a drug overdose.
Social media was quick to blame Grande for Miller's death, citing her tumultuous breakup with the rapper for sending him into a depression. Known for keeping a close relationship with her fans, Grande took these accusations regarding Miller's death to heart.
Come November, despite her freshly broken engagement with comedian Pete Davidson in the midst of mourning the loss of Miller, Grande released her chart-topping single "Thank U, Next," chronicling her past failed relationships.
Soon after, Grande released two other singles, "Imagine" and "7 Rings," showcasing a softer and more confident sound. This upbeat style is continued throughout "Thank U, Next," with empowering messages of independence exemplified in songs like "NASA."
One of the strongest songs from the album is "Break Up With Your Girlfriend, I'm Bored," in which Grande sings about wanting a man who is taken and tries to convince him to choose her. While this seems manipulative on the surface level, this track breaks away from the stereotypical love song where a girl is longing for a boy who does not share the same feelings. Instead, this catchy melody serves as a love song to herself and boosts her self-worth, a sentiment that young women need now more than ever.
Aside from empowering anthems, Grande digs deeper and opens up in "Ghostin," discussing her emotional turmoil following her breakups with refreshing honesty. While the songs "Needy" and "Makeup" are fairly mundane and ordinary musical compositions, the more catchy singles from the album make up for this disparity.
While a few songs on "Thank U, Next" are getting heavy rotation on the radio, it is definitely worth taking the time to hear all 12 tracks. Whether it is empowerment, reflection or just a catchy hook, Grande's accessibility and pure vocal prowess are qualities that we can all enjoy.
This story was featured in the Volume 36, Issue 5 print edition of The Lion's Tale, published on March 15, 2019.