Upper School tuition to rise for the upcoming school year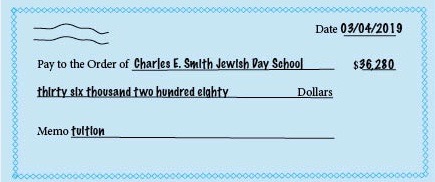 Upper School tuition will increase by 4.5 percent, from $34,720 to $36,280, for the upcoming 2019-2020 school year. This increase leaves some members of the CESJDS community wondering how the school will spend its larger revenue.
"I am a little curious where all this money is going to because I don't see any improvement [to] the school," Brad,* a student at JDS, said. "I just wonder what the extra $1,000 to $2,000 per kid a year is going to."
According to Chief Financial Officer Julie Hoover, one of the major reasons for the tuition raise is the salary increase needed for faculty to keep up with the cost of living. However, there are many other aspects that contribute to the need for the increase.
"We have some inflation effect of different services and things costing more," Hoover said. "Then, also as we are looking at enrollment, we're looking at how much we need to collect from the parents in order to meet all the expenses of the school, so we raise it just enough to cover whatever the increase needs to be."
The price of tuition has also been rising over recent years to cover the school's annual budget, which is currently 25 million dollars. According to Hoover, JDS is not the only independent school to be making these increases in recent years, and many other independent schools have been raising tuition.
"All independent schools benchmark our increases against other independent schools, and they generally do go up in that range every year," Hoover said.
The raised tuition is hard for lower-income families to afford. According to Brad, the rise in tuition "is a stretch" and has been hard for his family, but they think certain aspects of JDS are worth the high price, such as it's "great" education system.
"We're unable to do a lot of things because we have to pay this tuition. If we want to go out, we have to make sure it fits in our budget for that month or that week," Brad said. "Anytime we want to go on vacation, we have to take a small vacation that's driving distance because it's hard for us to afford school and to go on a fancy trip to Europe."  
Brad's family is not the only one who finds the demand of tuition hard to meet. Currently, 47 percent of students are on financial aid. In contrast, 14 years ago, when Hoover started working at JDS, that number was only 24 percent. As tuition rises, the demand for financial assistance goes up as well.
"It's really hard for a lot of families to meet the tuition increase, so we have a really good tuition assistance budget, but it can only stretch so far," Hoover said. "We do our best to be very equitable with it and distribute as much aid to as many families as we can in being very sensitive to the families' budgets and the families' incomes."
While JDS tuition remains expensive, faculty and staff  receive a 25 percent discount per child. Jewish text teacher and department chair, Aviva Gershman views the discount as a generous job benefit as she is the parent of a student as well.
"It makes me feel really good about the institution as a whole and really helps me save some money," Gershman said. "I don't see it as the thing that's going to be the determining factor between whether a person decides they're going to send their child here or not going to send their child here."
*Name has been changed to respect the student's privacy and anonymity