Senior workshops prepare class for future
On Tuesday, Jan. 29 and Wednesday, Jan. 30, CESJDS seniors will attend a variety of workshops to prepare them for life after high school.
Although the guidance office has played a major role in the planning process of workshops in the past, Dean of Students Roslyn Landy took charge this year. According to Landy, the facilitation topics regard drugs, alcohol, vaping, date rape, sex education, finances and the Israel debate on college campuses. Landy is still finalizing the lineup of speakers for each workshop.
There will be four workshops each day. The seniors each selected their top three choices for the workshops and Landy is planning on having them attend their top choices, unless two of them are scheduled for the same time.
The sessions are sexual assault and dating violence prevention, vaping, alcohol and drug prevention, opioid abuse prevention, cyberbullying and cyber saftey, finances, mental health and Israel/Palestinian issues on campus. Speakers include State's attorney Truancy Prevention Program director George DeBord and former JDS history teacher Marc Dworin.
These topics are meant to educate the seniors beyond the secular and Judaic education they receive throughout their JDS experience.
"We always like to do some final workshops before the seniors go off to college, both as a refresher and to cover topics that we might not have covered in high school that are important for their transition to college," Landy said. 
The workshops are held between the time when seniors finish their final exams and they leave for Israel. This scheduling change was made four years ago, as the seniors had a longer than usual break leading up to their Israel trip. 
Alumna Romi Nachman ('18) said a workshop that stood out to her was when she heard from a survivor of a drug overdose because it was unlike anything she had previously encountered. Nachman also appreciated the workshops on antisemitism because she has been surrounded by the JDS bubble for her whole life.
"I think [the workshops were] important because [they] allowed us to really have a face to face interaction with someone who is an expert at that," Nachman said. "Instead of just hearing about it or even just seeing it on social media or T.V., it was something real."
Elisa Bauman, mother of junior Ryan Bauman and alumnus Jared Bauman ('17) also views the workshops as a positive addition to the curriculum; however, she believes that the school should notify parents ahead of time about what information the workshops will cover.
"I think in general the school should tell the families what's going on before it happens instead of after just because we do know our kids a little bit better and maybe there's a topic or an issue that we would let the guidance counselor know of an issue if it were to arise," Bauman said.
This story was featured in the Volume 36, Issue 4 edition of The Lion's Tale, published on January 25, 2019.
Leave a Comment
About the Writer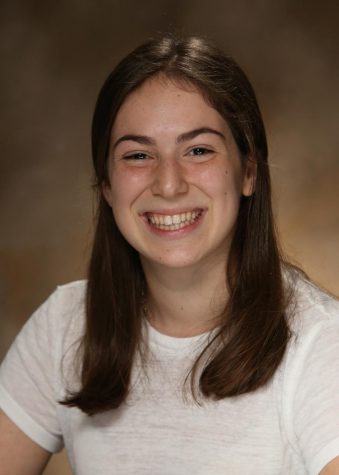 Sabrina Bramson, Editor-in-Chief
Sabrina Bramson is honored to be serving as the Editor-in-Chief for The Lion's Tale, following her time as Features Editor. In addition to The Lion's Tale, Sabrina is also Editor-in-Chief of the Melting Pot, the Spanish and Arabic literary magazine. Sabrina is very involved in BBYO and is the Vice President of Jewish Heritage, Community Service and Social Action for the Washington metropolitan area. Sabrina is also very passionate about community service and is an active volunteer for Friendship Circle as well as the Secretary of Community Service for the class of 2020. Sabrina looks forward to continuing reporting on and developing pressing stories for her community and to further explore journalism.