Hackathon to promote creativity
After months of coordination and effort, CESJDS' first hackathon will be held on Jan. 27, from 9 a.m. to 7 p.m. Unlike most hackathons, however, JDS' hackathon will be based around multiple forms of STEM problem-solving. 
Traditionally, hackathons are 24 to 48-hour sessions where college students or professionals use their programming skills to solve a set scenario. After being judged by a panel, the top teams can win anything from bragging rights to grants.
 During its creation, senior Aliza Rabinovitz and Upper School STEM Coordinator Cassandra Batson decided to take a spin on the session of intensive computer programming by shortening it to 10 hours to accommodate for Shabbat, which had stopped Rabinovitz from participating in Hackathons at other schools. They also opened up the hackathon to a variety of STEM's forms, including 3D-printing and engineering. 
"What we're trying to do is embrace all the different skills because our program is new, and so we're just kind of focusing on that," Batson said. 
Inspired by the ability to problem solve, Rabinovitz originally approached the JDS administration over the summer with her idea. She attended the summer programming camp Kode With Klossy for multiple years and took computer science at JDS as a freshman. 
Batson and Rabinovitz also reached out to many nearby public and private schools in Maryland and Washington, D.C. so that students within the greater Washington area all have a chance to showcase their STEM skills in this rare event.
On the day of the hackathon, Batson and Rabinovitz will announce a set scenario around which all participants will focus their ideas and designs. 
A panel of three judges will choose one of the teams of one to four members to win a 100 dollar gift card and will focus more on each project's general idea rather than the execution of each project due to the short period of time. 
STEM and computer science teacher Rustom Meyer has supported professional and collegiate-level hackathons in the past and believes that they are an effective way to increase STEM fluency and time management skills.
"I guess that my main hope for this hackathon, for the first hackathon, is that we can come into it in a spirit of exploration," Meyer said. "Let's try to make something cool in the time allotted, but, you know, not go nuts on it like it's a crazy deadline."
Although unable to participate due to a scheduling conflict, junior Samuel Goldberg views the upcoming hackathon as a unifying event for STEM at JDS as whole, which is currently split into individual classes and clubs. 
"The thing about STEM at JDS and STEM in general is that there's not really a community behind it at JDS. There's [the] Engineering Club, there are several STEM classes, but there's no real unifying event that takes place," Goldberg said. "There's nothing that I see that really goes on and brings everyone together, but with this hackathon, even though I'm not participating in it personally, I think it's going to be a really great opportunity for people to come together and pursue their passions together."
Batson looks forward to seeing the creativity and effort put forth by students, as well as finally seeing something that she has spent months scheduling reach fruition. 
"You're excited to stay up. You're excited to throw in ideas and change things up, and I think I'm most excited to see that in students," Batson said.
Editor's Note: The Lion's Tale recognizes that senior Aliza Rabinovitz is a member of staff. As she was the only student coordinator of the event, we deemed it necessary to interview her. She was not, however, involved in the writing of this article.
This story was featured in the Volume 36, Issue 4 edition of The Lion's Tale, published on January 25, 2019.
Leave a Comment
About the Writer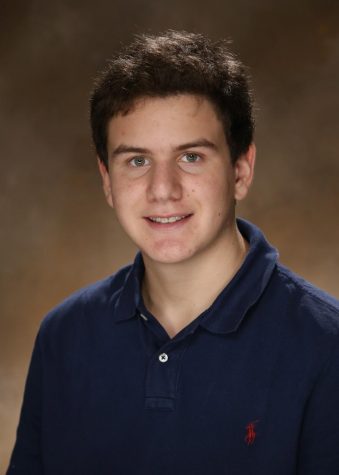 Matthew Rabinowitz, Managing Copy Editor
When Matthew Rabinowitz is not serving as the Managing and Copy Editor of The Lion's Tale, he enjoys writing and participating in various political activities, such as going to Model UN conferences and attending Junior State of America conventions. Additionally, he loves to try new foods. After being the News Editor, he hopes to ensure that the entire paper is up to the standards of reputable news organizations around the country and can provide members of the CESJDS community with relevant information as fast and efficiently as possible. His favorite part of being on the paper is the satisfaction of publishing a new article or having an article he edited published.