Dress decoded: Students balance modesty with style
When Dean of Students Roslyn Landy walks the halls of CESJDS, she notices the various styles and trends in students' outfits. Although many students keep up with fashion, they do not all keep up with dress code.
"The rules that are broken the most are low-cut things with girls, cleavage, and the new cut jeans which are adorable, but not for school," Landy said. 
According to Landy, within the last five years, leggings became permitted. It was hard for the faculty to differentiate leggings from jeggings and other bottoms, so the school changed the dress code to adapt. Although new dress code infractions come about with new styles, the number of students who are "dress coded" has not increased.
Landy recognizes that the dress code is mostly an issue for the girls at the school. Boys sometimes break the dress code towards the beginning of summer when they wear sleeveless shirts, but their main issue is kippot. Senior Stav Elazar-Mittelman sometimes enters class without a kippah, which is an infraction of the dress code.
"If the school claims to be pluralistic, I should not be forced to wear a kippah, especially when halacha doesn't even require me to," senior Elazar-Mittelman said. "For me it's a religious symbol that I strongly disagree with and it's one of the core things that I disagree with in my own philosophy."
Elazar-Mittelman believes that Jewish law only requires males to wear kippot when eating or praying, so JDS should not mandate that the male students wear them all of the time. He also does not agree with what kippot symbolize, that "God is always above people." 
While Elazar-Mittelman has some strong opinions about kippot, he also has other issues with the dress code. He believes that the three inches above the knee rule for shorts and skirts is a bit much and that as long as the bottoms are long enough to be deemed appropriate in public, they should be fine for school.
"I think the dress code is really pushing it," Elazar-Mittelman said. "It's again some of the things like the no bra strap rule I think is a little weird. It's just a strap, like who cares? It's not going to entice the gentlemen and I think it's just taking it too far."
Like Mittelman, junior Maya Cohen-Shields has broken dress code before, but she has never been dress coded before. She finds that the teachers do not comment on some of the recent trends that are out of dress code. 
Dresses, jeans and tops are some of the major issues that Cohen-Shields and her female friends have. 
"I think that sometimes [dress code] is a little too much and can be confusing, especially for teachers to really be able to know what the dress code is," Cohen-Shields said.
Math teacher Curtis Asplund, however, said that he does not find it hard to enforce dress code with students, but he does have to remind students to follow it. He finds that dress code infractions are more common with male students as they forget to wear kippot to class.
Asplund also believes that there are aspects of fashion that make it harder for female students to stay in dress code at school.
"What I would say is sexist is popular fashion and societal standards," Asplund said. "Societal norms are very different in our culture and our society for men and women. And so therefore in practice, women's fashion is not as easy to make align with our dress code as men's fashion is."
This story was featured in the Volume 35, Issue 2 edition of The Lion's Tale, published on Oct. 20, 2017.
Leave a Comment
About the Writer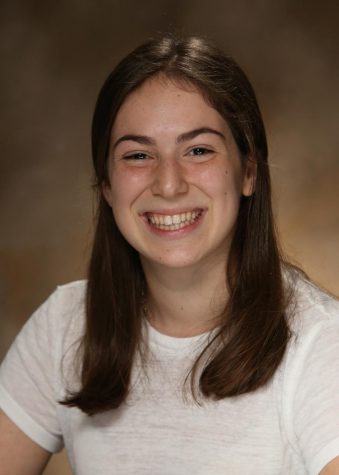 Sabrina Bramson, Editor-in-Chief
Sabrina Bramson is honored to be serving as the Editor-in-Chief for The Lion's Tale, following her time as Features Editor. In addition to The Lion's Tale, Sabrina is also Editor-in-Chief of the Melting Pot, the Spanish and Arabic literary magazine. Sabrina is very involved in BBYO and is the Vice President of Jewish Heritage, Community Service and Social Action for the Washington metropolitan area. Sabrina is also very passionate about community service and is an active volunteer for Friendship Circle as well as the Secretary of Community Service for the class of 2020. Sabrina looks forward to continuing reporting on and developing pressing stories for her community and to further explore journalism.