Last second buzzer-beater shot wins it for Lions playing St. Anselm's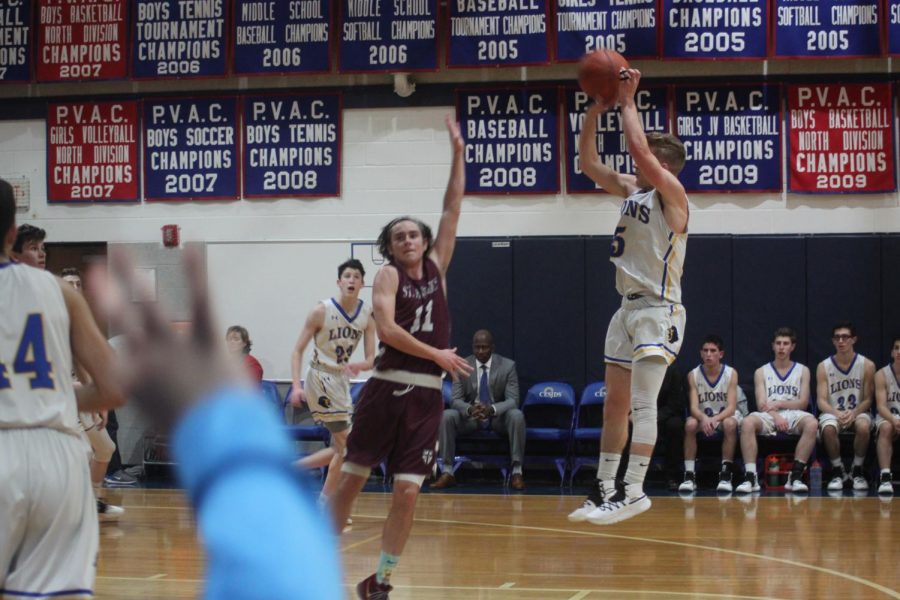 With less than three seconds left, the Lions were down by one, and senior Zev Katz had just missed a mid-range shot. As it bounced of the rim, sophomore Jake Rulnick grabbed the rebound and banked it in as the buzzer sounded: Rulnick stepped up when the clock was winding down and hit the biggest shot of the game.
"I was in position to rebound, I got the rebound, I put it up, and didn't really think about it. I didn't even realize (what) happened, I was just like 'Oh my god, I made the layup,'" Rulnick said.
Rulnick wasn't the only player that stepped up. In the final quarter, senior Dani Offer scored eight points and Zev Katz scored five, leading to an overall 17-13 run in the last quarter, and a nail-biting win against St. Anselm's.
"We just passed the ball around really well," sophomore point guard Brian Epstein said. "We just played really hard, so that's why I think we got the win."
While the Lions started off on fire, St. Anselm's outscored them by nine points to lead by one point at the half. During halftime, Coach David McCloud decided to switch from a zone defense to man-to-man defense. The change tamed St. Anselm's offense for the third quarter and the Panthers only scored 10 points, compared to 21 points in the previous quarter.
"They really had no answer for our man defense," McCloud said.
The crowd was going crazy after Offer and Katz hit a combined three three-pointers in the fourth, which kept them in the game. After Offer's second three-pointer, the atmosphere was at a new level of excitement, but St. Anselm's didn't go down easily and they continued to score on the other side of the court.
This offensive burst wasn't enough to close out the game, and with the Lions leading, and less than a minute to go, St. Anselm's grabbed a rebound and easily beat the slow Lions defense for a layup, which put them up by one point.
This was when Rulnick, who had been a powerful presence in the paint all game, stepped up and sealed the win for the Lions.