Check out the new cashier
After accidentally getting shot in the gluteus maximus while hunting a pig for his cousin's Catholic confirmation in Mexico, Erik Nieto's first surgery resulted in infection, leading to three more surgeries and two years of recovery in America. 
Nieto, in need of money to pay for medical bills and college tuition, seemed like a good fit to take a job as a cashier at CESJDS, which had recently switched to a new technologized lunch program.
According to Food Services Director Eric Gilbert, Nieto was able to easily figure out how to use the new point of the sales system that JDS had implemented, using his technological skills.  
In addition to his job at JDS, Nieto is a science and engineering student at the nearby Montgomery College and works at Moti's Market across the street from JDS during weekday afternoons. His responsibilities make it easy for him to also work as a cashier at JDS for around two and a half hours each weekday. In his free time, Nieto often studies, winds down by playing video games or spends time with his friends and family. 
Nieto also enjoys the summer when his extended family visits him from around the United States and Mexico.
"We usually go to the beach, amusement parks … I like to explore D.C.," Nieto said. "It's very nice; there's a lot of cool things to do there, especially at night."
Although Nieto's original plans of becoming an aerospace engineer came to an abrupt halt when he found out he had epilepsy, he still hopes to go to medical school and major in either the oncology or the hematology field. 
Nieto also noted how he appreciates the kindness of the JDS community, and according to sophomore Yarden Irlander, Nieto is friendly to students in return. 
"[He] always has a smile and is always trying to make students smile whenever they talk to him in general," Irlander said. "I think [he's more relatable to students] because he's younger and kind of has the same kind of humor as some students here or some high schoolers here."
According to Gilbert, Nieto's personality embodies the type of person that he was looking for when searching for potential employees. Gilbert said Nieto is time-oriented, rule-based and structured, three traits that are crucial to making sure that the lunch-line runs smoothly and ensuring that it is not held up. 
"I really like just his easy going, positive attitude and his 'go with the flow' and 'let's start figuring things out' [attitude]," Gilbert said.
This story was featured in the Volume 36, Issue 2 edition of The Lion's Tale, published on Oct. 26, 2018.
Leave a Comment
About the Contributor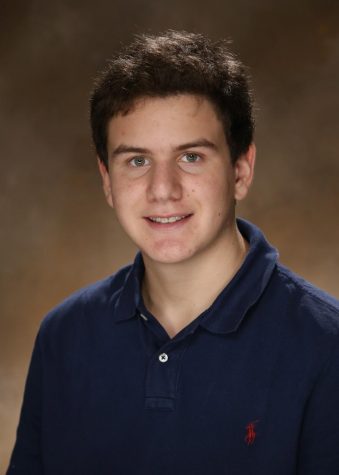 Matthew Rabinowitz, Managing Copy Editor
When Matthew Rabinowitz is not serving as the Managing and Copy Editor of The Lion's Tale, he enjoys writing and participating in various political activities, such as going to Model UN conferences and attending Junior State of America conventions. Additionally, he loves to try new foods. After being the News Editor, he hopes to ensure that the entire paper is up to the standards of reputable news organizations around the country and can provide members of the CESJDS community with relevant information as fast and efficiently as possible. His favorite part of being on the paper is the satisfaction of publishing a new article or having an article he edited published.