Get fit for credit: Students fulfill exercise requirement in many ways
Between schoolwork, extracurriculars and standardized testing, finding the time to exercise can be challenging for high school students. In order to fulfill the required one and a half sports credits before graduation, students get exercise in a number of different ways.
One way to fulfill the exercise requirement is by joining a school sports team. Spring and fall season sports teams each count for a quarter credit while winter teams each count for a half a credit because it's longer.
Outside of school, students can get their credit by joining a sports team, dance studio or a local gym. In order for that exercise to count towards their credit, however, both the activity instructor and the activity itself must be approved by the athletics department.
To get approval, students must fill out a form describing their activity. They then log their hours, which are signed by their instructor. A quarter credit is given for 25 logged hours per quarter. 
Another way that students can get exercise is by using the school weight room. Although it is convenient, junior Nathan Rashti notices that it is not a popular choice for most.
"Eight [students] maximum [use the weight room]," Rashti said. "People come and people go."  
Rashti has worked out in the weight room since his freshman year and generally tries to go four days a week. Although small, "it's got the basics, which is all you really need," Rashti said. "You have a bench press, weights, you have a table machine."
When the school workout room is unavailable, such as on the weekends and in the summer, Rashti goes to Planet Fitness. Rashti likes the gym because it has more modern equipment than the school weight room, however, membership is expensive and there is no student discount. The most basic membership at Planet Fitness, which includes fitness training access, costs $10 a month, while the more comprehensive membership is $22 a month.
According to physical education teacher Becky Silberman, people use the weight room for a variety of reasons. Some are there for after school PE and others, like Rashti, are there simply to work out.
As a supervisor of the weight room, Silberman makes sure that students are using the equipment correctly and performing exercises with the proper form. She also offers to help students create workouts.
Traditionally, high school students are expected to utilize the school weight room. This past year, however, younger students have been taking advantage of the facilities.
"This year we've had a lot more middle schoolers, a lot of sixth graders who've been coming because during PE during the day we actually let them in there and they really like it," Silberman said.
While Silberman has noticed an increasing number of middle school students using the facilities, she has not seen as many high school girls. She attributes this to exercise classes outside of school.
Sculpt, a cycling and yoga studio, and spin, the term for indoor cycling programs such as SoulCycle, are offered at a number of different gyms and studios in the area. There are also instructional apps so that people can take spin classes independently and on their own time.
Junior Shira Finke uses the app Peloton with her stationary bicycle at her house. The app provides video guides, music and motivation for people so that they can get a challenging workout anytime. Apps like Peloton can serve as an alternative to standard exercise and workouts such as swimming or running.
"I don't love running so much but I need to do cardio in some way, so this is kind of the way I choose to do it," Finke said.
In addition to spin and yoga, popular group exercise classes include Zumba, pilates and kickboxing. Sophomore Maya Bellas takes a Zumba class once a month in addition to her regular dance classes.
For Bellas, doing exercises such as running and lifting weights can be boring, so dancing and Zumba pique her interest because they are fun, they provide an opportunity to learn new things and they challenge her.
"You're burning calories, you're letting out all of your energy and … it's something that you can be motivated to do and [be] dedicated towards," Bellas said.
Rashti also enjoys working out on his own, but for a different reason. He enjoys exercising because he can discipline himself instead of having a coach tell him what to do.
"The most important thing to me is that with working out you have so much more freedom to do what you want and set your own limits rather than working as a team," Rashti said.
This story was featured in the Volume 35, Issue 6 print edition of The Lion's Tale, published on May 30, 2018.
Leave a Comment
About the Contributor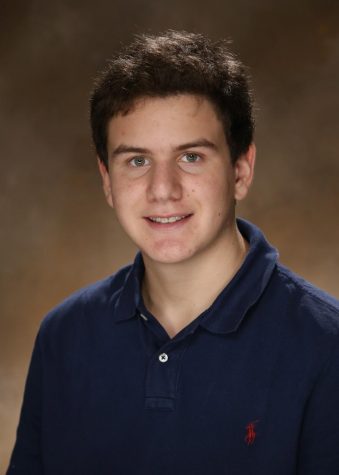 Matthew Rabinowitz, Managing Copy Editor
When Matthew Rabinowitz is not serving as the Managing and Copy Editor of The Lion's Tale, he enjoys writing and participating in various political activities, such as going to Model UN conferences and attending Junior State of America conventions. Additionally, he loves to try new foods. After being the News Editor, he hopes to ensure that the entire paper is up to the standards of reputable news organizations around the country and can provide members of the CESJDS community with relevant information as fast and efficiently as possible. His favorite part of being on the paper is the satisfaction of publishing a new article or having an article he edited published.